This is an archived article and the information in the article may be outdated. Please look at the time stamp on the story to see when it was last updated.
SAN DIEGO — Ten motorists were jailed on suspicion of driving while intoxicated around the Del Mar Racetrack on opening day of this summer's horse-racing season at the oceanfront venue, authorities reported Thursday.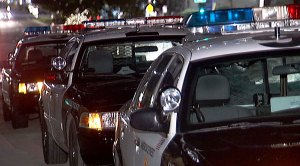 Law enforcement personnel from around the county made the arrests Wednesday as part of a DUI "saturation patrol" in Del Mar and nearby areas in Encinitas, Solana Beach and northern San Diego, sheriff's Lt. Julius Faulkner said.
During the operation, which ran from late afternoon until midnight, officers and deputies made 111 traffic stops, performed 25 field sobriety evaluations, issued four traffic tickets and impounded 10 vehicles, the lieutenant said.
The special detail was funded by a grant from the state Office of Traffic Safety, through the National Highway Traffic Safety Administration.