This is an archived article and the information in the article may be outdated. Please look at the time stamp on the story to see when it was last updated.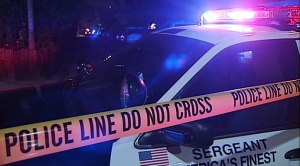 SAN DIEGO – One man was killed and another was critically wounded in a shooting in the Skyline neighborhood early Sunday, a police lieutenant said.

Officers called to the 7800 block of Bloomfield Road near South Meadowbrook Drive found the mortally wounded 23-year-old man lying on a sidewalk shortly before 3 a.m., San Diego police Lt. Jorge Duran said.

He was taken to a hospital, but died shortly after, Duran said. His name was not released, pending family notification.

Officers who were securing the scene were then notified that a second shooting victim had been dropped off at another hospital, Duran said. The 21-year-old man was listed in critical condition, but was in stable condition, according to the lieutenant.

Duran said the initial investigation indicated the men were shot during a argument that broke out during a large gathering in the 7700 block of Bloomfield Road. During the confrontation, the suspect drew a handgun and shot both victims, he said.

Anyone with information on the shooting should call SDPD's homicide unit at 619-531-2293 or Crime Stoppers at 888-580-8477.