This is an archived article and the information in the article may be outdated. Please look at the time stamp on the story to see when it was last updated.
LAKESIDE, Calif. – A 21-year-old man was killed and two others were injured in a head-on collision in Lakeside, authorities said.
A Nissan Altima was headed west at 80 to 100 mph on Lake Jennings Park Road east of the intersection with El Monte Road shortly before 10:30 p.m. Saturday, according to the California Highway Patrol.
Harold Oliver Wise IV of Lakeside lost control of the Nissan and veered into oncoming lanes, where the sedan collided with a Jeep Wrangler, according to the San Diego County Medical Examiner's Office and the CHP.
The 21-year-old was wearing a seat belt, the Medical Examiner's Office reported.
Friends of Wise told Fox5 that he had been pursuing an acting career.
The crash left two people trapped in the heavily damaged vehicles, one of which was in flames, officials with the Lakeside Fire Protection District said.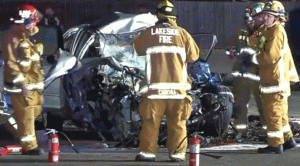 A third person was able to get out without help.
Responding law enforcement officers used fire extinguishers to put out the vehicle fire before fire personnel arrived on scene, fire officials said.
Wise died at the scene, and the Jeep's occupants were taken to a hospital with non-life-threatening injuries, the Medical Examiner's Office said.