This is an archived article and the information in the article may be outdated. Please look at the time stamp on the story to see when it was last updated.
EL CAJON, Calif. – A man was killed and a woman injured in a shooting at a house in a rural canyon in Dehesa, an small settlement southwest of Alpine, and the suspected gunman later turned himself in.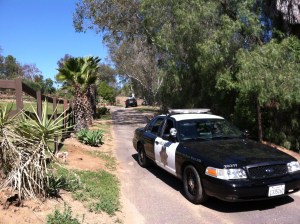 The shooting was reported at 6:25 a.m. at a home on  S. Willson Road, and homicide detectives were sent to investigate, sheriff's officials said. The house is just off Dehesa Road, about midway between Harbison Canyon and Tavern Road.
Sheriff's Lt. Glenn Giannantonio told reporters Martinez fired two shots, striking his ex-girlfriend in her arm and fatally striking the woman's current boyfriend.
The wounded woman was taken to a hospital to be treated for her injuries, which were not believed to be life-threatening, according to authorities.
The suspected gunman, Abel Martinez, 50, is the injured woman's former boyfriend. According to Giannantonio, Martinez escaped following the shooting, but later turned himself in at the Alpine sheriff's station.