This is an archived article and the information in the article may be outdated. Please look at the time stamp on the story to see when it was last updated.
ESCONDIDO, Calif. – Detectives were investigating a fatal shooting in a supermarket parking lot in Escondido Wednesday night, police said.
The gunman opened fire at 8:25 p.m. outside the Vons store at 351 W. Felicita Avenue, Escondido police said.
Escondido police Lt. Eric Skaja said four people were sitting in a Jeep when the gunman walked up.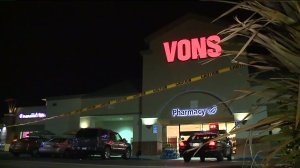 "An argument ensued so he pulled out a gun and shot inside the vehicle striking three out of the four people," said Skaja.
Miguel Fuentes, 35, was shot and killed. Martin Fuentes, 32, was shot three times in the chest and 28-year-old Wesley Smith suffered a gunshot wound to his leg.  The younger Fuentes and Smith were taken to Palomar Medical Center and were expected to survive.
The fourth victim was not identified and did not suffer any injuries, Skaja said.
A witness, who was parked next to the Jeep, said an argument broke out between a pedestrian and the people inside it.
"I don't know what conversation they had but, the guy in the Jeep was hitting the steering wheel like he was upset," the witness said. "I just basically turned to the side and that's when all the gunshots started happening."
Police are searching for the suspect and did not release a description Thursday.
"Apparently, there were 30 to 40 bystanders in the shopping center at the time.  As you can imagine the descriptions are across the board so we're trying to work through that," said Lt. Skaja.
Detectives do not believe the shooting is gang-related.  He said it's believed the victims were targeted and the incident was not a random act of violence.
Anyone who has any information on the crime is asked to call Escondido Crimestoppers at 760-743-TIPS (8477).  A $1,000 reward may be awarded for information that helps solve this case.