This is an archived article and the information in the article may be outdated. Please look at the time stamp on the story to see when it was last updated.
PINE VALLEY, Calif. -- An 11-year-old girl was killed and five other people were injured in a fiery chain-reaction crash on Interstate 8 in Pine Valley, authorities said Monday.
The three-vehicle crash on the westbound freeway near the U.S. Border Patrol checkpoint west of Buckman Springs Road was reported shortly after 9 p.m. Sunday, according to the California Highway Patrol.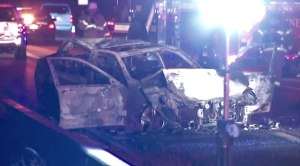 The car in which the 11-year-old girl was riding caught fire after the crash. She was trapped inside and suffered fatal injuries, according to the CHP.  Five other vehicle occupants sustained major injuries and were hospitalized, authorities said.