This is an archived article and the information in the article may be outdated. Please look at the time stamp on the story to see when it was last updated.
EL CAJON, Calif. — A 16-year-old high school student died Thursday morning after the minivan he was driving drifted into the path of a pickup truck on a two-lane road in East County, investigators said.
Julian Fraire, a junior at Steele Canyon High School, was driving a 2005 Chrysler Town & Country southbound on Steele Canyon Road at about 7:20 a.m. when he slammed into a Ford F450 pickup that was heading in the opposite direction, CHP Officer Kevin Pearlstein said. Fraire was trapped in the crumpled minivan and firefighters had to cut the roof off of the vehicle to free him, Pearlstein said.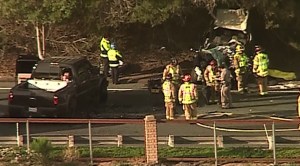 The boy died at the scene just before a helicopter ambulance arrived.
Both vehicles were traveling at about 45 mph on a straight stretch of road when the crash occurred, Pearlstein said. The teen may have been distracted when he let the minivan cross the double-yellow line, and investigators planned to check his cell phone to determine if he was texting or talking on it at the time of the crash, the officer said.
The pickup driver, a 36-year-old man from Jamul, was injured and taken to a local hospital for treatment of minor injuries.
The CHP closed Steele Canyon Road between Old California Way and Vista Cielo Drive for about four hours during the investigation.
"I was in class today and our teachers told us about what happened," said Manuel Michel Alejandro, a student at Steele Canyon High School.
He said most everyone knew about the accident by third period and Fraire's friends were devastated.
Counselors were on campus helping students cope.