This is an archived article and the information in the article may be outdated. Please look at the time stamp on the story to see when it was last updated.
LAKESIDE, Calif. – A sleepy driver hit and killed a woman before crashing his car into a light pole in Lakeside Sunday evening, an officer said.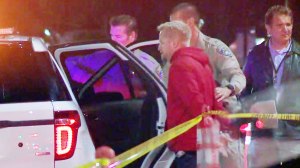 The driver, 33-year-old Joel L. Silva, told California Highway Patrol officers he fell asleep at the wheel and woke up after his blue Toyota RAV4 hit the pole just before 5 p.m. Sunday at Woodside and Riverview avenues, investigators said.
A 34-year-old woman of Lakeside was walking on the street when the vehicle hit her.  Paramedics performed CPR, but she died at the crash site.
"[The driver] just relayed he was trying to get back on state Route 67 and he fell asleep and woke up after the accident," an officer said.    "The investigating officer performed field sobriety tests and determined he was under the influence of some type of medication."
Investigators said Silva, a Julian resident, was renting the SUV. At least three bottles of prescription medication was found inside the vehicle, an officer said. Silva was arrested on suspicion of felony DUI and vehicular manslaughter while under the influence and has since been booked into San Diego Central Jail, according to Pearlstein and jail records.
The identity of the victim was not released.