This is an archived article and the information in the article may be outdated. Please look at the time stamp on the story to see when it was last updated.
SAN DIEGO — Two Mercedes-Benz sedans collided at a La Jolla intersection today, leaving one man dead and two others hospitalized.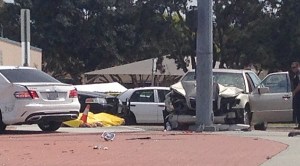 The crash occurred shortly after 1 p.m., when a motorist lost control of his car for unknown reasons on La Jolla Scenic Drive, according to the San Diego Fire- Rescue Department.
The northbound vehicle veered across the roadway and smashed into another Mercedes at Soledad Mountain Road, then continued on and struck a light post, SDFRD spokesman Lee Swanson said.
A passenger in the first sedan died at the scene. Medics took the driver of that car and the other motorist to hospitals for treatment of severe and moderately serious injuries, respectively, Swanson said.
The accident forced the closure of the road crossing until further notice, according to police.