This is an archived article and the information in the article may be outdated. Please look at the time stamp on the story to see when it was last updated.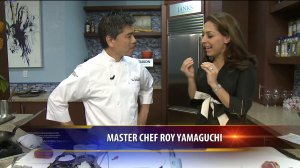 This is Master Chef Roy's Recipe for Seared Ahi with Lilikoi- Shrimp Salsa as seen on FOX 5  Morning News.
Tuna
4 (7-ounce) ahi tuna steaks
3 tablespoons peanut oil
Salt and freshly ground black pepper
Lilikoi-Shrimp Salsa         
1 ripe passion fruit, halved
4 ounces extra-large shrimp (about 4),
Peeled, deveined, and diced
1/2 tablespoon olive oil
¾ cup minced Maui or other sweet white 0nion
1 large Roma tomato, peeled, seeded, and finely diced
2 tablespoons finely sliced scallion
1 tablespoon minced fresh cilantro
1 teaspoon Tabasco sauce
Salt and freshly ground black pepper
To prepare salsa, scoop the seeds and pulp from the passion fruit with a spoon and press it through a fine-mesh sieve.  Reserve the juice (about 1 tablespoon) and discard seeds and pulp.  Put shrimp in a small bowl and toss with olive oil to coat.  Set a dry stainless-steel sauté  pan over high heat and, when hot, add the shrimp.  Sear, turning often, until evenly pink, about 1 minute.  Transfer to a non-reactive bowl and add the reserved passion fruit juice, onion, tomato, scallion, cilantro, Tabasco sauce, and salt and pepper to taste.  Toss well to combine.  Cover and refrigerate.
Put the ahi on a plate, coat with the peanut oil, and season with salt and pepper to taste.  Set a dry cast-iron skillet on high heat for 2 or 3 minutes and, when hot, sear the ahi for about 30 seconds on each side for rare, or about 1 ½ minutes on each side for medium rare.
Transfer the ahi to serving plates and spoon the salsa over the tuna, letting the juices from the salsa run onto the plates.