This is an archived article and the information in the article may be outdated. Please look at the time stamp on the story to see when it was last updated.
SAN DIEGO — Law enforcement officers around across the country attended the funeral mass held Thursday for a San Diego police gang-enforcement officer gunned down last week in a Southcrest-area.
The late-morning service in honor of Jonathan "J.D." De Guzman took place at Corpus Christi Catholic Church in Bonita.
Officers from as far as New York traveled to San Diego to pay their respects for De Guzman.
#HappeningNow Law Enforcement from all over US here to pay respects. NY, TX, CO, AZ and OR patches and more spotted. pic.twitter.com/u2ctfntM0x

— Sharon Chen (@SharonChenTV) August 4, 2016
A memorial service is slated for Friday at Shadow Mountain Community Church in El Cajon. A procession to Glen Abbey Memorial Park will follow the midday ceremony.  Governor Jerry Brown and other political officials are expected to attend Friday's ceremony.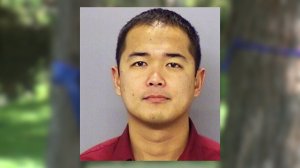 All the events will be open to the public.
De Guzman, 43, suffered five bullet wounds late last Thursday night in the 3700 block of Acacia Grove Way, just east of the Interstate 5/state Route 15 interchange. His partner, Officer Wade Irwin, 32, also was seriously wounded but was able to return fire. He is expected to recover.
The man who allegedly shot the lawmen, 52-year-old ex-con Jesse Michael Gomez, was critically wounded in the exchange of gunfire and remains hospitalized.
Gomez pleaded not guilty at UCSD Medical Center on Tuesday to charges of murder, attempted murder and being a felon in possession of a firearm, and was ordered to remain in custody in lieu of $5 million bail. A special- circumstance allegation of murder of a police officer makes Gomez eligible for the death penalty if he is convicted.
The San Diego Police Officers Association is collecting money for De Guzman's family. Donations can be mailed to the San Diego Police Officers Association, 8388 Vickers St., San Diego, CA 92111, or made online at sdpoa.org/about-widows-orphans-fund/.
SDPOA officials asked donors to include "Officer Jonathan De Guzman" in the notes of the online donation or on the memo lines of their checks.
Contributions to aid in Irwin's recovery expenses can be made at gofundme.com/irwinfamilyfund.