This is an archived article and the information in the article may be outdated. Please look at the time stamp on the story to see when it was last updated.
UPDATE: FAA says StubHub Center qualifies for temporary flight restriction at Chargers games
SAN DIEGO -- The banners that have been flown over the StubHub Center the past two Sundays have angered Los Angeles Chargers owner Dean Spanos, but it looks like there's not a lot he can do about it.
Disgruntled Chargers fan Joseph MacRae bought a banner to fly over the stadium in Carson to send a message to Dean Spanos about how much San Diego fans detest the move to L.A.
Recently, Spanos tried to stop it by contacting the Federal Aviation Administration (FAA) and requesting a temporary flight restriction (TFR) for game days.
However, the FAA only grants TFRs for stadiums and arenas that hold 30,000 or more, and since the StubHub Center capacity is under 30,000 -- the Chargers announced a sellout at 25,386 during their game with the Kansas City Chiefs last Sunday -- the FAA will not grant the TFR.
MacRae laughed when he heard the news and said, "Spanos and the NFL don't control everything. The skies are owned by the government and there is nothing Dean can do about this.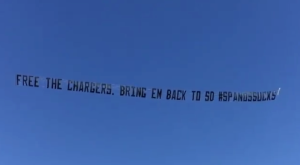 "This only adds more fuel to the fire to get a flyover every single home game for the entire season. I want to treat Dean Spanos just like he treated the great people of San Diego: like dirt. We'll continue our flyovers until Dean Spanos sells the team."
MacRae has flown two banners so far. One read: "Worst Owner in Sports? Dean Spanos. Pay your rent!" and the other read: "Free the Chargers. Bring 'em back to SD #SPANOSSUCKS." He plans to unveil another banner Sunday when the Chargers play the Philadelphia Eagles in Carson, which will read: "If Spanos wants to see a sellout, he should look in the mirror."