This is an archived article and the information in the article may be outdated. Please look at the time stamp on the story to see when it was last updated.
SAN DIEGO – The stepfather of 2-year-old Jahi Turner was arrested Monday, 14 years after the boy was reported missing from a Golden Hill park, the district attorney announced.
US Marshals Task Force tracked down 37-year-old Tieray Jones to Rocky Mount, North Carolina Monday morning, San Diego County District Attorney Bonnie Dumanis said. He faces charges including murder and felony child abuse causing death.
This slideshow requires JavaScript.
Officials did not say what new evidence led police to arrest Jones after so many years.  San Diego Police Chief Shelley Zimmerman said few details would be revealed Monday to protect the case.
"Our goal is to and has always been to recover Jahi," a detective said, when asked if they had found the boy.  The detective said Jones would be facing murder charges.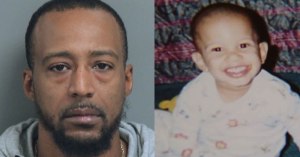 On April 25, 2002, Jones called police to report the toddler's disappearance from a park on Beech Street in Golden Hill.  He claimed he went to get a soda, and when he returned to the playground Turner had vanished. Police were not able to find Turner's fingerprints on any of the playground equipment.
There were several reports that Jones was seen dragging a large bag to a trash bin the day before the disappearance was reported.
Turner's body was never found even though hundreds of volunteers spent weeks searching for the little boy. Marines and police even spent a week sifting through garbage at the Miramar Landfill, but they came up empty-handed.
His mother, Tameka Jones, was deployed at sea and his stepfather was looking after him at the time of the disappearance.
Police told the media at the time they were convinced the boy was dead.
Jones will be arraigned Tuesday in North Carolina and Dumanis will seek his extradition to San Diego.