This is an archived article and the information in the article may be outdated. Please look at the time stamp on the story to see when it was last updated.
NEW YORK — For the first time in their 29-year history, the MTV Video Music Awards were broadcast live from Brooklyn, N.Y., on Sunday night, but as to whether the event showcased all the borough had to offer — well, you can fuggedaboutit.
The setting — the shiny new Barclays Center arena in downtown Brooklyn — may have lent the awards a veneer of hip, but homegrown talent such as Jay Z was scarce among the evening's winners and performers. Instead, MTV offered up "California Gurl" Katy Perry boxing in front of the Brooklyn Bridge and doled out prizes to Justin Timberlake, Selena Gomez, Taylor Swift and Macklemore & Ryan Lewis.
But what the evening lacked in outer-borough authenticity it made up for in the kind of manufactured spectacle that has defined the event since Madonna writhed around the Radio City stage wearing a trashed wedding dress during the network's inaugural broadcast in 1984.
Lady Gaga got the show off to a rousing start with a performance of her current single, "Applause," demonstrating her quick-change skills in a succession of outré ensembles. The singer, who had been sidelined for much of the year with a hip injury, took to the stage in what looked like a surreal nun's habit and exited in a thong and a pair of strategically placed clamshells.
And yet Gaga's set wasn't the oddest of the night. That honor belonged to former "Hannah Montana" star and twerking enthusiast Miley Cyrus, who shimmied provocatively with R&B crooner Robin Thicke and a legion of dancers dressed as teddy bears.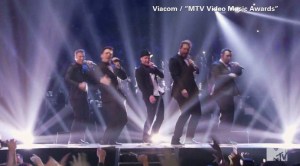 It was a memorable evening for another former Disney kid, Timberlake, who delivered a rousing marathon medley of hits and, as rumored beforehand, briefly reunited with his 'N Sync bandmates before accepting the Michael Jackson Video Vanguard Award.
The singer also took home the night's biggest prize, video of the year, for "Mirrors."
PHOTOS: MTV Video Music Awards | Arrivals
Other honorees included Seattle duo Macklemore & Ryan Lewis, who won the hip-hop video award for "Can't Hold Us," and the newly minted prize for video with a social message for the gay rights anthem "Same Love."
Swift picked up the award for female video for "I Knew You Were Trouble" and, true to form, managed to get in a dig at ex Harry Styles of the boy band One Direction.
"I also wanna thank the person who inspired this song, who knows exactly who he is, because now I got one of these!" she said, clutching her Moonman trophy.
And happily, unlike in 2009, Swift was not interrupted by Kanye West, who appeared to be in a subdued mood Sunday, performing "Blood on the Leaves" entirely in shadow.