This is an archived article and the information in the article may be outdated. Please look at the time stamp on the story to see when it was last updated.
HBO's "Game of Thrones" seized the crown Thursday morning when the 65th Primetime Emmy Award nominations were announced, earning 16 nods — the most for any drama series.
But it was still no match for FX's gothic miniseries, "American Horror Story: Asylum," which goes into the TV awards season with 17 nominations, more than any other program. Among the nominations: Best miniseries, and best actress for Jessica Lange.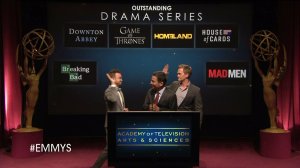 "Game of Thrones" is nominated for best drama series and helps solidify one of the longest-running storylines in TV history, that being the dominance of HBO. The cable network scored 108 nominations, 27 more than last year. Trailing in second place were CBS and NBC, tying with 53 nominations apiece.
Besides "Game of Thrones," HBO scored 15 nominations for its Liberace biopic, "Behind the Candelabra." Michael Douglas, in the role of the flamboyant entertainer, and Matt Damon as his young lover both earned nominations for lead actor in a miniseries, movie or a dramatic special category. Director Steven Soderbergh also earned a nod.
Adding to HBO's haul: "Boardwalk Empire" with 10 nominations, and "Veep" and "Girls" with five apiece.
Meanwhile, NBC's "30 Rock" is getting a sweet sendoff by the Emmy Awards.
The Tina Fey creation beloved by critics — but not as warmly embraced by audiences — nabbed multiple nominations Thursday morning as the 2013 Primetime Emmy Awards were announced by the Academy of Television Arts & Sciences. The comedy series just wrapped its final season.
Not only was it nominated for best comedy series, but both Fey and fellow star Alec Baldwin nabbed top honors. In all, it earned 13 nominations — more than any of the other comedy nominees.