This is an archived article and the information in the article may be outdated. Please look at the time stamp on the story to see when it was last updated.
SAN DIEGO — The Downtown Central Library is getting gamers geared up for Comic-Con in a unique way.  The public library has launched an alternate reality game that participants say is the perfect way to prepare for the upcoming four-day expo.
"An alternate reality game is an interactive story that takes place in real time, in a real world setting such as here in Central Library, which involves players solving puzzles and perfuming activities," said Erwin Magbanua, Special Events Librarian.
Magbanua said the Central Library is one of just a handful of libraries across the country that has ever tried something like this.  The clues appear in email form and online as well as in the library.
"I think it's pretty cool," said John Roberts who is participating in the game.  "It gets you to explore the library and I've found parts of the library I didn't know existed."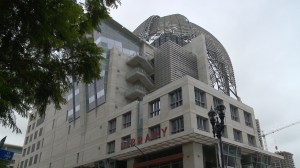 The game began in June but people can still get involved as it runs through the beginning of Comic-Con.   There are currently several dozen players.
"I think the most fun aspect is like the anticipation of waiting for what comes next," said player Chad Havas.
Catherine Roberts said she's never participated in an alternate reality game before but is enjoying it so far.
"It's a game that you don't know where it's going or where it ends so every day is a surprise," she said.
The game begins with a puzzle that library goers see as they enter the building.
"Once I solved the puzzle it was the gateway to the game," said Mark Simpson.  "You have these, 'Aha' moments where everything falls together and, 'Ah that's the answer!'"
The game is free and participants like Catherine Roberts say it's the perfect way to build excitement for Comic-Con.
"My whole year revolves around San Diego Comic-Con so now that it's getting close I'm freaking out," said Roberts.  "So it's good to have something to distract me."
San Diego Comic-Con runs July 24-27.