This is an archived article and the information in the article may be outdated. Please look at the time stamp on the story to see when it was last updated.
TORRANCE, Calif. (LA TIMES) — Around 7:30 p.m. Friday in the Torrance Barnes & Noble, a screaming came across the bookstore.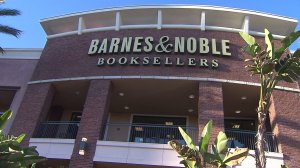 Though other bookstore patrons may have wondered if the screaming woman was reacting to spoilers of the new Thomas Pynchon novel, she knew she was headed rapidly into hard labor. The bookstore customer gave birth to a baby boy, and the patrons in the store burst into a round applause.
"I don't know if it happened near the classics or the nonfiction section — but it was definitely smack dab in the store lobby," Capt. Steve Deuel of the Torrance Fire Department told The Times on Friday. The captain added that mother and the son are reportedly doing well, despite the latter's apparent impatience.
Dave Delgado, a witness on the scene, told ABC that the customers came running as the woman's screams intensified, "then just as I got on the other side of the bookshelf by the door, I saw a little baby."
Firefighters arrived at the last minute, and as soon as the woman was on a stretcher the baby entered the world. Evan Wogoman, one of the firefighters to respond to the call, told the Daily Breeze that the birth, though incredibly quick, went well. "The most surprising thing was how smoothly it went," he said. "She wasn't planning on giving birth in a bookstore."