This is an archived article and the information in the article may be outdated. Please look at the time stamp on the story to see when it was last updated.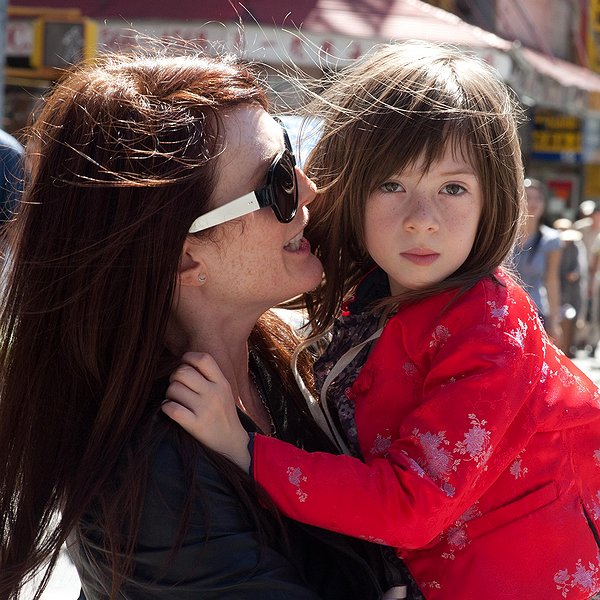 I never wanted to be somewhere other than a movie theatre when I saw this last night. I had a great dinner with friends in town. We ate, drank wine, and off to the movies I went. I would be watching this hour and a half film, and meeting the gang back at the house of a friend. If ever there was going to be a bad movie, I wanted it to be this one. I'd give it an hour. If it didn't move me, I would be out of there.
The screening started 30 minutes later than I thought, so I dozed off in my seat for 45 minutes before it finally started. Another critic woke me up as it started. I was groggy as the argument between Julianne Moore and Steve Coogan gave us the introduction to these people. A 6-year-old girl (Onata Aprile) watched her parents fight, while she gets the money and pays the pizza delivery guy. The fight continues during all that, only slowing enough for Coogan to charmingly grab a slice of pizza and flirt with the cute, young nanny (Juanna Vanderham).
In these opening scenes, you realize how perfect this cast is and they make it all seem so natural.
The parents get divorced, and Maise becomes a pawn. We initially think Moore is the bad parent. She's an aging rock star that chain smokes and curses around her kid. She seems to have taken parenting tips from the mother she played in Boogie Nights.
Coogan is what he always is – intelligent, funny, and selfish. Yet we're clearly rooting for him early on.
When he starts up an affair with the nanny, we're not sure what to think. Since Moore figures this will hurt her in the custody battle – she also marries somebody a lot younger – bartender Alexander Skarsgard. We see him at one of her parties reading her palm and acting like a groupie. It's a party going on the same night Maise has a friend spending the night. Nice.
There's a scene where Vanderham finds a bouquet of flowers in the girls closet. They were sent from her mom, and Coogan threw them away (not realizing Maise saw them arrive). Maise wanted to keep them, though. And as we look at this nannies face as she's assessing the situation, our mind naturally wonders what direction it will go. Maise, thinking she needs an excuse as to why her dad would've thrown flowers away, explains "Dad is allergic."
The nanny smiles and says "Pick out a few of your favorites. We'll press them, and that way…you'll always have them."
I couldn't control the tears at that moment. There's something about realizing an adult can be smart enough to do something sweet for a child, even if she is a bit bothered that she's put in the middle of an ugly predicament.
When the dopey bartender shows up in one scene, thinking he can just pick the girl up from school without anybody knowing who he is, we cringe. When he is clueless about how to properly walk across a busy New York street with a girl, we realize it's only a matter of time before this whole thing gets worse. Yet soon after, the movie has a slight change in direction. Maise's mom is recording new songs in a studio, and the girl is bored as she draws in her coloring book. She asks Skarsgard how to draw a bridge for the castle, and he seems puzzled by the question. He soon jumps in, telling her to make chains for the drawbridge. He suggests she draw some scary animals below in the mote. The girl enthusiastically starts coloring, as Moore looks on from the studio. She stops singing her song, grabs the kid, and brings her into the studio. And while you're witnessing this, wondering why Moore isn't thrilled this guy can do more than mix a stiff drink – she instead scolds him for "trying to get her to love you more."
Yes, these are some messed up parents. I have no clue how the filmmakers decided to take a Henry James novel from 1897 and modernize it, but I'm sure glad they did.
New York has been shown in every imaginable way on screen, yet this brought a different perspective — a young child in the big city. Who would've thought about what it's like dropping off a child at various places – a high rise with a doorman, an upscale restaurant with a hostess. A bad parent can open the cab door, tell the kid where to go, and watch to make sure an adult working at the place is there to greet the child before the cabbie drives off.
In one instance, neither parent shows up for the kid after school. A principal and teacher watch over her.
And even though this may have been a one-note type of story, I enjoyed the subtly about it. The teacher gets angry at a parent, but it's more of a stern warning than a screaming match you might see in a poorly written film.
When nobody picks the girl up at a restaurant, one of the waitresses takes her home until they can get a hold of a parent. Maise tries to sleep, but hears noises she's not used to. She gets up, and the waitress is sitting on the couch smoking. A strange looking man comes out of another room, looks down at the kid without smiling, and continues walking. Nobody is shooting heroin or having an orgy, but we immediately think about how scary that must be for a child that age. She's in a strange place and doesn't understand exactly why. It helps that the camera is often times at her eye level, so we get that perspective, too.
It was a smart move that they didn't write Maise as a precocious kid, or somebody that cried all the time, did poor in school, etc. She has friends, answers questions in class, and shows a resilietness a lot of kids would. That doesn't mean she's also not hurt, as she watches on with her emotive eyes and poker face.
This movie isn't without it's share of clichés. When Moore shows up with gifts, I thought about The Champ. When she cries and makes excuses to her daughter, you think of a handful of films.
Coogan always being on the phone working on a business deal, reminds me of Christoph Waltz in Carnage.
This movie is the anti-Kramer vs. Kramer. Instead of melodramatic and manipulative garbage that a lot of filmmakers would've done with this, it's a subtle film that reminded me of The Kids Are All Right and A Separation. It's a painful movie, but a very special one.
It gets 4 stars out of 5.