This is an archived article and the information in the article may be outdated. Please look at the time stamp on the story to see when it was last updated.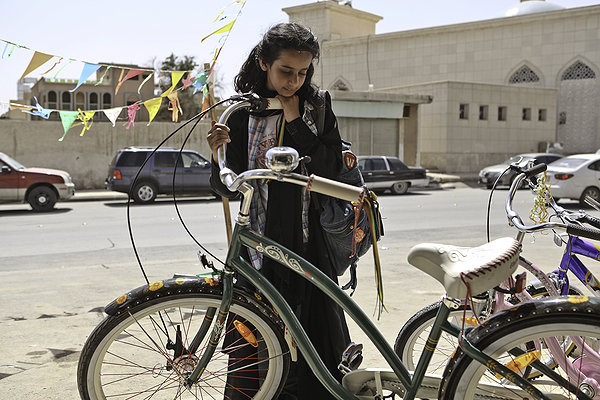 I can't  recommend a movie just because it has all these things other critics are going to be praising it for.
For example, this is the first movie shot entirely in Saudi Arabia. Now to put that into perspective – movie theatres are outlawed there.
It's also the first feature made by a female Saudi filmmaker. Haiffa Al Mansour wrote and directed this movie about a spunky 10-year-old girl that wants a bicycle, in a country where women aren't allowed to ride bikes, drive cars, or vote.
Something about the rebellious nature of this girl (Waad Mohammed) and the leisurely pace, wasn't a good combination for me. It got boring quick.
That doesn't mean there aren't some good scenes. Wadjda wearing purple tennis shoes instead of the leather ones most of the girls in uniform are wearing; or her get so excited as she sees a bike strapped onto the top of a car. It's shot cleverly, with a wall blocking the car, so we merely see the bike quickly passing her by.
I read that the director, while filming in Riyadh, often had to hide in a van and tell cameramen what to do through a walkie-talkie. If that's the route she had to go, I would've preferred a more rebellious movie along the lines of No One Knows About Persian Cats or Jafar Panahi's This is Not a Film.
Instead, this plays like another underdog story from an Afterschool Special from the late '70s.
The kids in this movie are cute and have chemistry together. Wadjda's male friend (Abdullrahman Algohani) often teases her while riding by on his bike. She wants a bike to ride with him, and even race against him. He often leaves her in the dust while peddling away after a taunt.
There's a local shop that has a girls bike she has her eye on, and she does a good job saving up her cash.
Her mom (Reem Abdullah) isn't keen on her riding the bike. Now, if she just wins the Koran recital at school – that will give her a cash prize that makes the purchase possible.
I was a little confused by a side story involving Wadjda's father (Sultan Al Assaf). The relationship with Wadjda's mom was confusing, but it becomes clear later in the movie what was happening. Sometimes you got to smack yourself in the head and realize…this is another country with different customs.
The movie is bogged down by being very mediocre. Perhaps this was a conscious decision to make it a little easier to digest and universally accepted. It is a lot less powerful than the subject matter could've been.
If this movie gets people talking about women's issues in the Middle East, that's good. It's certainly not going to get people talking about a great foreign film they should rush out to see. If you're itching for a bicycle movie, rent The Bicycle Thief. You could also catch Ride with Larry at the San Diego Film Festival. It's a documentary that's going to stay with me a long time.
Wadjda gets 1 ½ stars out of 5.