This is an archived article and the information in the article may be outdated. Please look at the time stamp on the story to see when it was last updated.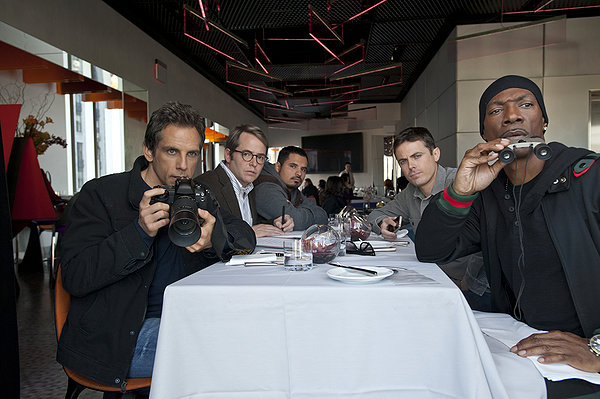 I've done at least 20 movie reviews where I talk about Ferris Bueller's Day Off. Sometimes that's because they are Matthew Broderick films, but usually it's when they are teen comedies that lift things from Bueller (and they're never done as well).
How could I not think of that movie when I'm watching Broderick walk around in a bathrobe, with a parade going on, while he tries to steal a red '63 Ferrari (San Diego fun fact: the four used in Ferris Bueller were kit cars built in El Cajon).
Director Brad Ratner usually does these comedy-action films I don't care for (see the Rush Hour trilogy). Since he was the man behind this, and the commercials looked awful, I wasn't expecting much. And, it did give me the implausible scenarios and many holes in the story – but it kept me entertained. I laughed just enough to begrudgingly give it a good review.
The cast is comedy gold. You've got the cute Tea Leoni as the FBI agent that gets drunk and clotheslines people. Eddie Murphy decided to stop dressing like a woman or talking like a donkey – and remind us of the days he was funny — those criminal types from the streets that we loved in Trading Places and 48 Hours. Always nice when Broderick wears the bathrobe, and Murphy wears the leather and gold chains (aside from those goofy leather outfits in his comedy specials).
The cast is rounded out (no pun intended) by Gabourey Sidibe, as the Jamaican maid looking for an American she can marry to stay in the country.
Casey Affleck played a character that isn't much of a stretch for him – a desk clerk that is clueless.
Ben Stiller goes against type and plays the guy that runs things, and actually has his act together. The only two stupid things he does are moves during a chess game, and an incident with the Ferrari (I won't say too much, unlike Roger Ebert, who as he often does – gave away key plot points in his review of the film).
Michael Pena, who stole the scenes he was in in 30 Minutes or Less, shows us that it wasn't a fluke. He's funny in this, too.
We also got to see some older comedic actors – Alan Alda (playing the Bernie Madoff type character), Judd Hirsch (playing the strict boss), and Robert Downey, Sr. (yep, Iron Man's dad). I don't recall seeing him in a movie since To Live and Die in LA back in the mid-80s.
After Alda swindles the entire Tower out of their money, and it looks like he might get away with it, the working stiffs decide they won't be stiffed on losing their pensions. That's where plotting the heist comes in.
It's a shame the interview shows that had various cast members on, showed many of the funny scenes. They're obviously less funny when you see them in the movie and already know the joke.
The movie is rather sloppy, and the third act is atrociously bad. The whole affair feels like Oceans 11 with jokes.
Some of the funniest moments are scenes that have been done before (people being lectured on how to properly commit a crime, from somebody that doesn't have a clue what he's talking about), to a riff on various movies that starts with talk about a guy that has two Doberman Pinchers.
Perhaps not the most original start to a humorous scene, but they made them funny, and that's all that counts.
I'm guessing nobody will be disappointed with this movie. You could do a lot worse when searching for a comedy.
It gets 3 out of 5 stars.