This is an archived article and the information in the article may be outdated. Please look at the time stamp on the story to see when it was last updated.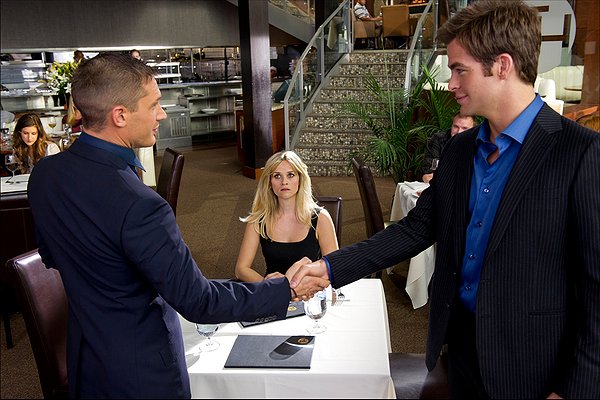 This means war with Tom Hardy. He impressed me so much in Bronson and has had great turns in Warrior and Inception, only to take a paycheck doing this silly movie. Now that being said, the movie was a little better than I thought it would be (but far from what I'd consider "good").
Two CIA agents that are BFFs find they are dating the same woman (Reese Witherspoon). Hardy has his hands full, as the other guy is Chris Pine (Star Trek).
They decide they'll let the best man win, after laying down some ground rules; and using every device and person working for the CIA.
The other two cast members of note include Chelsea Handler, the unfunny talk show host who seems to be playing herself. Angela Bassett is the CIA boss. Her talent is wasted in this.
Handler did have a few funny lines. One is when she yells at Witherspoon "Gloria Steinem didn't sit in a jail cell so you could act like a little bitch!"
There were also a handful of clever scenes. I especially liked when both agents broke into Witherspoons house while she sang and cooked. They were searched for clues as to what she liked, hoping to impress her on the date more than the other guy.
And speaking of songs, it was great hearing General Public, Joe Jackson, The Beastie Boys, and Sade. I wish the movie lived up to the great tunes on the soundtrack.
I think this film would've been better if they made it a more realistic story. I still enjoyed what could be the best paintball scene ever…but instead of having them shoot spy planes out of the sky while in the back of a rented Camaro, or getting into a fist fight in a fancy restaurant, why not go down a path that would could actually see happening?
If you make a totally implausible film, there better be a joke every few minutes and they should be funny.
This was directed by McG. No, that's not a food item at McDonald's. He's the guy that tortured the world with Charlie's Angels: Full Throttle.
If you want a more interesting love triangle, but one that's really, really dark – put the Neil LaBute debut film In the Company of Men on your queue. You might hate a character or two, but you'll be seeing a great piece of filmmaking.
This eked out 2 out of 5 stars.