This is an archived article and the information in the article may be outdated. Please look at the time stamp on the story to see when it was last updated.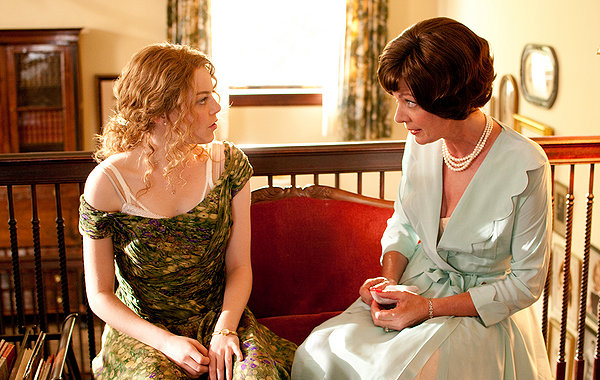 After a screening of The Way, Way Back we were told that Nat Faxon and Jim Rash (the writers, directors, and characters in film) would be available for interviews. It was great to have the opportunity to meet them, but I really wanted to talk to Allison Janney, who stole that movie. Sure, Sam Rockwell wasn't chopped liver, but…I asked the studio rep if they could arrange an interview for me with her.
I've seen her in movies like The Help, Juno, Strangers With Candy, American Beauty, The Ice Storm, Big Night, 10 Things I Hate About You, Drop Dead Gorgeous, and she was the voice of Peach in Finding Nemo.
I never watched The West Wing, but she won four Emmy's and 4 Screen Actors Guild Awards for that. She's also snagged a couple of Tony Awards, and I felt bad that the interview was happening just a few hours before the Tony Awards this year. I didn't want to keep her from anything. When she called I said, "I'm thrilled I get to talk with you, because often times we're given the opportunity to talk to actors, and we didn't particularly like the movie or their performances. I asked to interview you because I loved your performance in this."
Allison Janney: Oh, well thank you. That's nice of you to say.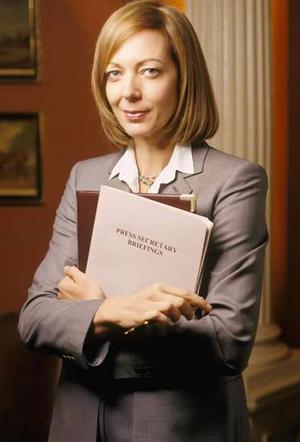 Josh Board: The first thing I have to ask, is what's your favorite Elvis Costello song?
AJ: Well…let me see. I'll need to think about that [laughs]. People sing that song [Allison] to me all the time. I used to tell people he wrote that for me. It's nice having a song with your name in it. I was just on the set in North Carolina with Melissa McCarthy, and she played that on her phone the other day when I walked in.
JB: With the Tony Awards tonight, and you having a career on the stage as well…tell me the pros and cons of what you like about live theatre versus TV or film.
AJ: I love theatre. I love the fluidity of it. You step on stage for your performance and no one is saying "stop," or telling you we got to do it again. It's your performance. That is really fun. It's frustrating in filmmaking when you have all the stopping and starting. I'll have some emotional scene and my body is in a place I want it to be, and you'll have to just stop and do it again. Sometimes you'll be filming a scene and a train or plane will go by. It's out of your control, and in filmmaking that can be really annoying. When we filmed The Way, Way Back in Marshfield [New England] we were in this town on the beach. We all got to hang out together. It was one of the most fun experiences I've had doing a movie. We weren't in trailers, but beautiful beach houses and in between shots, we'd all share funny stories. It was so fun, and that can be amazing. In TV, just being at home and going to work is nice. The hours we had on The West Wing, if you added up my personal time, I probably should've only aged six months. Now that I'm about to do this show Mom on CBS, with the multiple-cam format – that's a coveted schedule for an actor. You can actually have a life outside of work. I'm so thrilled about that. I couldn't be more excited. Of all the various ways and methods of acting, theatre is my first love.
JB: As a critic, we sometimes watch movies with only a few other critics in the theatre. For a screening of The Way, Way Back, it was a packed house. When you delivered your lines, sometimes there was so much laughter I couldn't hear the next scene. You were so funny in that role.
AJ: Oh, I can't wait to do that. I've never seen my movies with a crowd. I'm afraid to do that. Jim and Nat are funny, but when we're filming, I never see a reaction. They are behind a monitor and they look very serious. I'd say 'Oh sh*t, I'm not doing this right.' Jim would say it was okay, but he might give me a little direction. I'd have to ask 'Am I in the right ball park at all?' You become insecure, because directors can look so serious. They directed as if it was a comedy but that the reality of this woman had to come through. They really understand the humor. They'd tell me things like 'Use your hands more in that scene when you describe his eye.' They'd want something more physical, and I'd think – oh yeah, I know what I'll do there. They'd suggest things in different ways, and in my silly actor mind, I'd be telling myself "I suck, I suck, I suck.' They're probably just laughing at me in the monitor and saying 'Let's make her do this now.' Really though, those guys really know this material. They've been partners for so long and complimented each other so nicely on the set. It's really a great part they wrote.
JB: You mentioned that kid and his eye, so I have to ask…was that really his eye or some kind of contact lens?
AJ: (laughing) No, it's a contact lens. That poor kid, he was blind in that one eye, wearing that thing all day with the wind and the sand. You'd think it would be hard to keep it in all day and not get cranky. He was so excited to be there.
JB: I'm glad to hear the eye was fake. That would've been horrible to really be making fun of a kid with a damaged eye, even if it was for a movie.
AJ: Jim and Nat told us to act like an old married couple and it worked. I was worried, too. It had to be believable, but I felt like I had to be liked. I don't always play a character where I worry about being liked, but you have to feel for this woman and see that she loved her son. I would put in little physical things; touch him in a way that showed I cared for him. Perhaps the character was misguided, but you wanted to sense that she loved him, even if she was making fun of him. She had the best of intensions.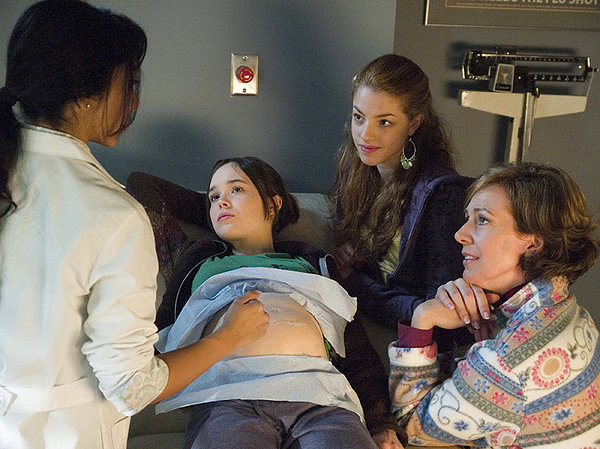 JB: The last character I saw you in was a little unlikable, and she was also hysterical. Liberal Arts was one of my favorite movies last year, and when I talk about it nobody I know saw it. Isn't that frustrating?
AJ: Yeah, why is it? Don't they say it's the distributors fault?I don't know. It was double fun for me, because Josh Radnor [writer, director, star of Liberal Arts] and I both went to KenyonCollege. We both had that professor that the character was based on.
JB: Wow…that was a real character! She was so bizarre and fun. Speaking of your college days, Paul Newman sort of discovered you. Can you tell me a story about him?
AJ: He went to KenyonCollege as well. He has a theatre there [Bolton Theater] and he cast me in a play that he directed. I got a ride from him once, from the theatre down to the deli and down Main Street. We were in his Datsun 280Z. He was just the sweetest man. He told me if I ever needed a favor just to let him know. He told me to be specific, and that he'd be there for me. Getting out of the car, I said 'Paul'…I called him Paul…'Thank you, that's the nicest thing to say.' To this day I still think about that. Of course I can't call him on that now, but…he gave me such confidence. It was nice having that in my back pocket just in case I needed it. That one little gesture. He was great to actors and he was also a great director. I wish he would've directed more.
JB: When I looked up a list of your movies, I saw you had a small part and you're listed as "party guest" in Wolf. If you ever ran into James Spader at a party and he was talking about something you did, would you tell him that you had a small part with him in that movie?
AJ: Oh, not in a million years! If I reminded him of that, he'd either go 'Oh my god, that's right.' Or he'd say 'I don't remember that,' and I'd be mortified.
JB: I would think the fact that it was such a small part you wouldn't expect them to remember you, which is why it would be fun to say that to him or Jack Nicholson.
AJ: Yeah, Jack Nicholson was in that, too. No, I wouldn't do it. I live in fear of people doing that to me. I don't want to meet somebody at a party and say 'It was nice meeting you,' and have them say 'We worked together on West Wing.' Then it would be — Oh f**k, I didn't remember that! Yeah, I got that part because Mike Nichols saw me in a Nicky Silver play [Ship of Fools] with Marisa Tomei and Stanley Tucci. Subsequently, I got the role in Primary Colors from that, and then West Wing. All these fun trails leading to different roles.
JB: I have to say before I let you go, I'm going to do anything I can to try to get you nominated for an Oscar for your role in this movie. I have absolutely no pull with the Academy, but I'm just so sick of comedies like this being overlooked at Oscar time.
AJ: I know! I am so glad you said that. I actually got shivers up my spine. Thanks so much. You can go ahead and do that, and…I won't stop you!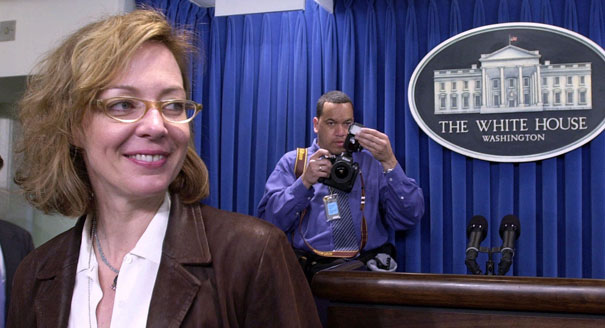 I thought it would be nice to end on that note, so I didn't bring up Amanda Bynes recent arrest. Janney played the strict, religious mother of Bynes character in Hairspray.
Janney went down a path other Hollywood parents should follow. Instead of just having a teacher on the set, let them pursue a real, normal life. Janney went to college and was doing plays, finished school and went to the Neighborhood Playhouse in New York and the Royal Academy of Dramatic Art in London. She then started doing movies and Broadway, and is a well adjusted adult in a crazy business.
Make sure you catch The Way, Way Back this Friday. It's the best movie I've seen this year, and Allison Janney deserves a Supporting Actress nomination for her role in it (you hear me, Academy?!)