This is an archived article and the information in the article may be outdated. Please look at the time stamp on the story to see when it was last updated.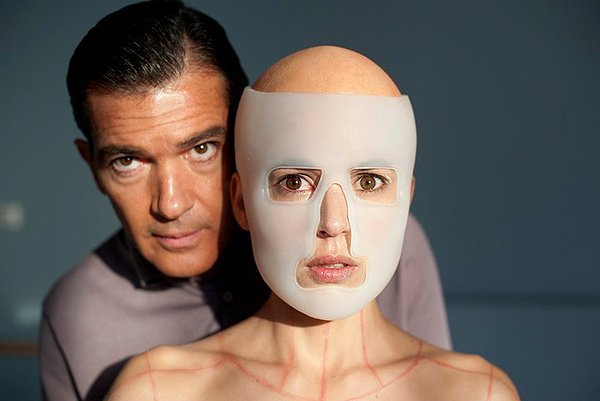 Antonio Banderas should jump back onto the A-list after this performance. He looks like a Latino George Clooney as the plastic surgeon whose wife is burned in a car crash. Who else could be so calm, cool, and collected – eating French toast while somebody brings him a bucket of blood?
He's either helping or hurting her, as she becomes the human guinea pig for his experiments creating a synthetic skin. It certainly appears as if she's being held captive and not helped, with these painful procedures and occasional puffs of opium.
I gave nothing away, because when you see this, you'll realize not all is what it appears.
Based on Thierry Jonquet's novel Mygale, filmmaker Pedro Almodovar finds lots of perversity in this premise. I'm not the biggest fan of his work, but he's certainly got talent, and can create amazing visuals and wonderful shots. Who else could make close-ups of fingers playing a saxophone, a razor on shaving cream, or latex gloves being put on – so interesting?
The mansion Banderas lives in – with beautiful nudes on the wall (and locked up in a room) – and the very detailed scenes (especially the surgeries, which I found fascinating) – colored interiors, and a wonderful score (Alberto Iglesias) with the best use of a violin since Psycho. Another scene had the surf guitar sound I love (think Dick Dale or Bow Wow Wow).
There's a housekeeper that doesn't just help with the cooking, but also the surveillance. The plot thickens, when her psycho son shows up unannounced.
The cat and mouse game of seduction between the doctor and his "patient" is interesting at first, but in the third act, the movie just becomes a ridiculous mess. It's really hard to buy anything Banderas does at that point, which is a shame. The movie was so captivating (no pun intended).
I actually thought of three different scenarios that would've made the ending better (I will admit the final scene is powerful).
Someone I talked with that's a huge fan of Almodovar, told me they were disappointed that he left out a large part of the novel that explains the bond the doctor and patient have. I found that interesting, since that's the main problem I had with the movie. I didn't see that relationship ever working. Perhaps veering away from the book and creating a movie in which Banderas just keeps working on the skin he wants to create (despite being told by the authorities that he can't). I can't say more without ruining it, but when you truly know his motivation, it makes it even more likely that he would continue down that path and not worry about all the ramifications.
Banderas worked last with Almodovar more then two decades ago (Tie Me Up! Tie Me Down!), and they work very well together. I wasn't familiar with the rest of the cast, but they were all perfect in their roles. I did wish they had an actor or actress play two of the parts (that's a statement that will make more sense if you see it).
This movie will give you more nightmares than Paranormal Activity 3. It'll really get under your skin (pun intended).
Some better movies to rent with similar themes: Hard Candy (Ellen Page, Patrick Wilson), Extreme Measures (Gene Hackman/Hugh Grant), and the novel turned film that freaked me out as a kid – Coma  (Michael Douglas/Genevieve Bujold).
The Skin I Live In loses a star because of the direction it went. I can only give it 3 ½ out of 5.