This is an archived article and the information in the article may be outdated. Please look at the time stamp on the story to see when it was last updated.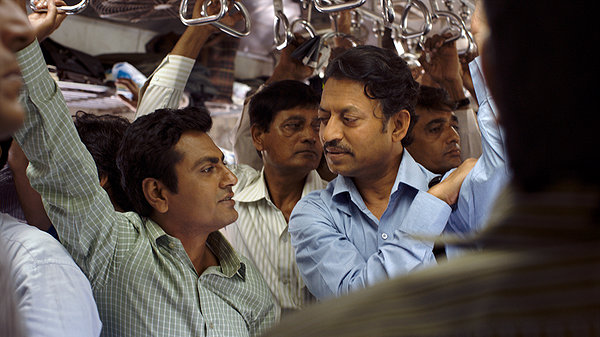 Having a story play off falling in love through the written word and correspondence has been done often (The Shop Around the Corner, 84 Charing Cross Road, You've Got Mail, I Sent a Letter to My Love…all come to mind). It helps when you have appealing characters, as there are here. Yet there just isn't enough in this Indian rom-com to fully work.
First time director (and co-writer) Ritesh Batra has done well for his first film, with a clever setup. I just wonder if others felt the way I did here in America. It made no sense why you would make a lunch for your husband at work, and have a delivery service bring it to him. Wouldn't it be cheaper (and easier) to just have him take it to work? Maybe it's a custom in Mumbai that I am not aware of. Of course, if things didn't work this way, you wouldn't have the mix up where a widowed, older accountant (Irfhan Khan) accidentally gets the delicious cooking of a sad housewife (Nimrat Kaur). It quickly leads to not only food changing hands, but letters. One of my pet peeves in a romance that starts this way is when you don't make the written words clever enough. In this, they weren't. I want to see the passion in the writing, that seems to go into the food that's prepared.
Another story involves Khan (who was wonderful as the older Pi in Life of Pi) training his eager successor (Nawazuddin Siddiqui). He brings some life into the story, always trying to perk the depressed Khan up.
It's always fascinating to see another country, especially one I have no intention of visiting. You see a lifestyle you're not accustomed to. Heck, even the way the lunchbox is designed is fascinating. It stacks up in columns that are locked into place, with each cylinder containing a different item. Just as you did watching other food movies (Big Night), you wish you were sticking your nose in there with Khan.
Filmmaking 101 dictates that you must have two annoying side characters in a romance of this fashion, so we also get the somewhat domineering mother, that we only see shouting about the various recipes through the window above  as the food is being prepared ("You're using too much spice! I can smell it from up here!!!")
There was a scene where Khan talks about old TV shows his wife used to record off TV. I adored it, and wished the movie had more sweet moments like that. It also helps that Khan has a narration style that works well.
The story was just a tad underdeveloped, and you'll end up wanting more. Like Chinese food, you're hungry an hour later.
It gets 2 stars out of 5.