This is an archived article and the information in the article may be outdated. Please look at the time stamp on the story to see when it was last updated.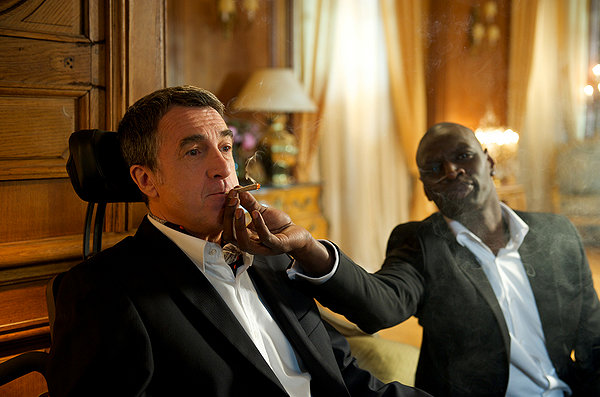 This is a buddy comedy that's tearing it up at the box office in France. It was written and directed by Eric Toledano and Olivier Nakache. They decided they wanted to do a Trading Places meets Driving Miss Daisy. Luckily for them, Francois Cluzet and Omar Sy are so charming, and their chemistry wonderful. It helps make this enjoyable to watch, despite its flaws.
It's the true story (even if the race of Philippe has been changed) of a wealthy white aristocratic who is also a quadriplegic. He hires Driss, a male nurse that really just showed up at the job interview hoping to get a signature that will continue his unemployment benefits.
It was refreshing that the scene didn't show other incompetent applicants. It just made them all the same, cookie-cutter interviewee types that knew the right things to say. Philippe was looking for something more than just a caregiver. He wanted somebody to challenge him, and not just pity him.
It was smart that they didn't make Sy a hard-core criminal. It would've been hard to ever like him. Also a wise decision to cast somebody with a great smile. That same thing made the character in The Visitor so likable as well.
The movie follows the basic Hollywood fomula (so much for the French being more cultured than us). Sure, it's inspirational enough, but they don't seem to tackle some things I wondered about. I'd like to know more about Sy dealing with being a black immigrant among the white society in France. The movie also had a few racist clichés, but I'll let those slide.
There's such great chemistry and charm in these two characters, it was a pleasure to watch their friendship develop. Even if we've seen the fast driving car with scared passenger, and pot smoking for the first time, scenes in so many other things.
So, the white characters are all stiff (not just the one in the wheelchair) and instead of Vivaldi, they need to loosen up and dance to Earth, Wind, and Fire. Again, the scene was fun, so it gets a pass.
The film was a tad trite and needed more subtlety. It's not a great film by any stretch, but it warmed my heart enough to look past the negative.
It gets 3 stars out of 5.