This is an archived article and the information in the article may be outdated. Please look at the time stamp on the story to see when it was last updated.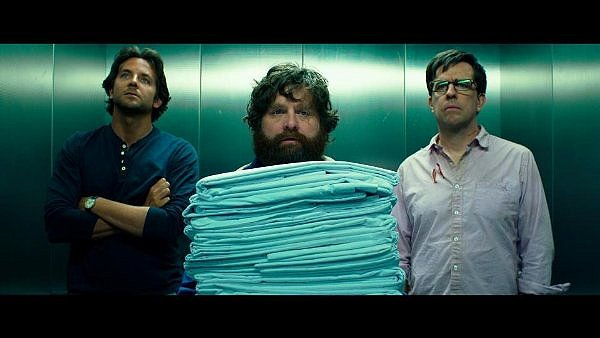 No spoiler alert needed here, because they show this in the trailers. The movie starts with Zach Galifianakis driving down the freeway with a giraffe. It gets decapitated by a bridge. Nothing is funny about that, and the movie goes downhill from there (and more animals will be killed unnecessarily).
What I find so strange about Galifianakis doing an unfunny comedy is this. When the second Hangover was being made, he used his clout to get Mel Gibson kicked off the film. I think that's great. More actors should stand up and take stands like that. If Woody Allen sends you a script, maybe you tell him it's not so cool what he did to Mia Farrow (marrying his step-daughter). If Polanski contacts you, tell him to come to the United States and you'll talk about possibly starring in his next movie (he has avoided serving his sentence here for raping a 13-year-old). Again, all the props in the world for Galifianakis doing that to Gibson; although one wonders why he had no problem with a convicted rapist, Mike Tyson, being in the first two. He isn't in this one.
I wonder why Galifianakis didn't demand a decent script. This is a guy who was one of the best stand-up comedians around. I had seen him perform live twice, and many times on TV. He was brilliant. He's probably the type of guy that, when Adam Sandler left Saturday Night Live to make $20 million a film, Zach sat around with his fellow comedians making fun of those movies. Yet now he's just phoning it in for the million dollar paychecks. In my opinion, that's despicable. And I don't even fault Oscar nominee Bradley Cooper. He doesn't have a comedians mind, so he might not realize how bad a script is when he's reading it. Galifianakis should.
The funniest thing in the movie was listening to Ken Jeong doing the press junket, and telling a story about somebody on an airplane screaming they needed a doctor (he's a doctor in real life). He stood up to help the passenger, only to hear somebody else yell "Sit down, Chow!"
In the movie, they try to utilize more of Jeong, since he's the favorite character of the series. That means we see him completely nude again (now, what would've been funny is if they had given him a Dirk Diggler prosthetic during that scene).
I guess you could say it was mildly amusing when he sings the Nine Inch Nails song Hurt, but really – haven't karaoke scenes been played out in movies?
I'm still baffled the unfunny Hangover Part II became one of the biggest comedies of all time, when it recycled so many jokes. So you can't fault the studios for wanting another cash grab, but geez…you think they'd write some jokes for this. Hell, there's not a single person in this that ever even gets a hangover! It just became a bad action picture, with John Goodman brought in as the heavy, and Melissa McCarthy brought in for a cameo. If you think the idea of her and Galifianakis staring awkwardly at each other is funny, go see it.
The Wolfpack has to bring Zach to rehab, and Doug (Justin Bartha), the member of the Wolfpack nobody really knows, is kidnapped. Goodman wants Chow, because Chow stole gold from him. The Wolfpack has to deliver Chow and the gold, or Doug gets it. That means another trip to Las Vegas.
It's strange, because when I was in Caesar's Palace last month, I noticed all the gift shops had Hangover shirts, mugs, and items for sale. With this movie being so bad, I hope they remove them.
Now, it could've been funny watching them try to kidnap Chow in a suite in Caesar's while Black Sabbath is blaring and strobe lights are going. Yet it isn't. And when he parachutes out of there and Ed Helms is chasing him in a limo – you can't help but wonder – does Las Vegas have any police officers?
There are small parts for Jeffrey Tambor, Mike Epps, and Heather Graham – who has a baby that may or may not belong to one of the Wolfpack.
I laughed two times in this movie, which is one time more than most people probably will. It involved Zach lip synching. He has a history of doing some fun lip synching (find the Fiona Apple video).
Another scene involves the mellow piano section of Billy Joel's The Stranger. That only made me laugh because the person I brought with me to see this is one of the only people I know that liked Hangover II. We had talked before the movie about how funny it was that they played Billy Joel's Downeaster Alexa of all songs. So hearing The Stranger cracked us up.
The movie does a decent job with the soundtrack, too. We get Harry Nilsson, Danzig, and the great Coaster's song Down in Mexico.
Kyle Smith of the New York Post said in regards to this movie "I beg of you, don't ask me to choose between Hangover II and III. That would be like asking a mother to choose between her children, assuming she hated her children, never wanted to see them again and wished they'd never been born in the first place."
Easily the best and most appropriate quote you'll see regarding this film. I'll just say – it felt a bit like having a hangover the next day. You don't remember much about the night before, you have a headache, and feel a bit queasy.
This movie gets only ½ a star out of 5.