This is an archived article and the information in the article may be outdated. Please look at the time stamp on the story to see when it was last updated.
I was at a dinner party once when the topic of popular novels came up. We were all talking about the classic books we never read. A lot of novels by authors like Steinbeck, Orwell, Hemingway, etc. I came to the conclusion that if I wasn't forced to read one of the classics while in school, it's unlikely I'm going to go seek them out now.
Two popular novels I've always been meaning to tackle are A Confederacy of Dunces and Infinite Jest. It's a shame I never got to Infinite Jest, because filmmaker James Ponsoldt (The Spectacular Now) made an interesting movie about its author – David Foster Wallace (Jason Segel) – and the end of a book tour he does while being followed by a Rolling Stone reporter (David Lipsky, played by Jesse Eisenberg).
While Segel (who also produced the picture) is a pleasant surprise in the role, Eisenberg does his usual twitchy nervousness we've seen in most of his films.
They have interesting conversations which will captivate writers or journalists, but should be of interesting to anybody, really. When you listen to intelligent people discuss life, it's fascinating.
The road trip in the recent Paper Towns bored me because the teenagers weren't interesting and didn't do anything. Some might wish a bit more happened in this movie, but I found the approach refreshing. I don't need Tom Cruise dangling off an airplane. I'd rather watch the subtle jealous and egos at play between these two.
Lipsky wrote a book five years ago about this, as the Rolling Stone piece on it never materialized. Perhaps that's because Wallace never dangled from an airplane, or had a needle dangling from his arm (although the question of whether or not he shoots smack did come up).
The movie had very few false notes. One of those comes during a phone call Lipsky makes to his girlfriend (Anna Chlumsky). He puts Wallace on the phone and they have a pleasant conversation. Lipsky chides her for talking his ear off, and I don't buy him saying that. It's much more interesting when he resents the genius of Wallace in a way he thinks isn't noticeable. And I believe that's probably more like the real character.
Now, when Wallace chews Lipsky out for supposedly hitting on his old girlfriend (Mickey Sumner, Sting's daughter, last seen in the terrific Frances Ha), it was played brilliantly. You assume Lipsky was using an excuse to get a phone number, but he thought it wasn't obvious.
Other moments that are enjoyable have Wallace smiling as he talks about why he likes Alanis Morisette. He has her poster on the wall, along with a photo of John Updike. Lipsky jots down all of this, either trying too hard for a story, or obsessed with what makes Wallace tick. Maybe a little of both.
A few critics have compared this to My Dinner with Andre, which is absurd. Just because two people are talking through most of the movie, and about certain aspects of life, hardly make them similar. The guys occasionally talk about commercialism, and how if "something sells, it must suck."
Many of the topics have nothing to do with literature.
There is talk about bad movies (Broken Arrow) and trashy TV shows.
And it's not just these two. A few other characters do pop-up. Joan Cusack plays an upbeat driver/media escort that has to take them to a few book signings. Her lines are predictable, but cute [didn't read his book, wonders why he's dressed poorly, etc].
I'm glad the movie wasn't pretentious (and when a movie is based on a book called Although of Course You End up Becoming Yourself…that's shocking). It could get self-indulgent on occasion. It was surprisingly moving, though.
Danny Elfman provides an interesting, soft score. The soundtrack does a decent job (although I didn't need to hear the same Brian Eno song that was used so powerfully at the end of Me and Early and the Dying Girl, also being used near the end of the movie here).
Segel was terrific in this, playing against type. He had an intelligent look, and a gentle kindness was conveyed. It's the type of performance that would get an Oscar nomination if the movie wasn't so low-key or if Segel wasn't an actor known for playing those comedic roles.
The film isn't as revelatory as I would've liked, but when I've had to spend the summer watching comic book movies and Tom Cruise vehicles, this was a nice time at the theatres.
3 ½ stars out of 5.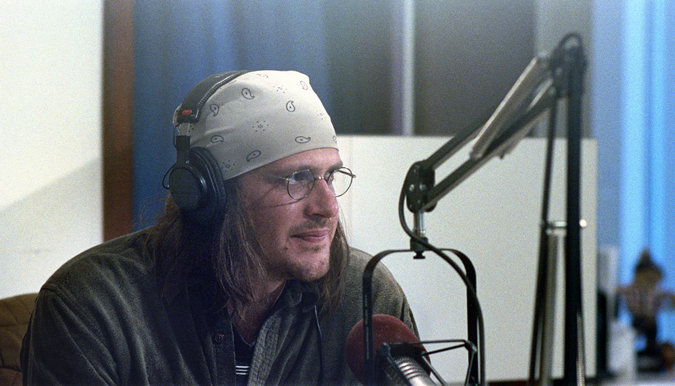 Jason Segel's big break was getting cast in Judd Apatow's TV show Freaks and Geeks in the late '90s. He was also in the much bigger TV show How I Met Your Mother, but his teaming with Apatow in films has really paid off.
He was in Knocked Up, and wrote and starred in Forgetting Sarah Marshall. He went against his normal raunchy comedies to write the fun family film The Muppets (2011). (Side note: he has nothing to do with the split between Kermit and Miss Piggy).
When he came to town to promote a movie he produced and starred in, a few journalists were lucky enough to interview him.
He was polite and introduced himself to the three of us that sat down at his table at the Hard Rock Hotel downtown, and we quickly started peppering him with questions.
When asked about the low-key nature of the movie, as oppose to how much more exciting an actual bio-pic on Wallace would've been, Segel said, "Yeah, I don't know that you can make this movie in the studio system. This is a movie that's made for love. Everyone hopes that it does well, don't get me wrong, but the goal going into a movie like this is that you make something that moves people, which was refreshing to me. I think a movie like this…it's interesting. Something is happening in the movie business where studio films are moving much more toward these tent-pole movies, and they're great , but their escapism by definition. That's what they are for. The middle area of movies seems to have moved to television, so now what's left on the other side – the reaction to the tent-pole movies, are movies like this. You go with the expectation and hope that you're going to leave and have had some sort of communal artistic experience that you can talk about with the people that you saw it with."
He explained what he had to do to become Wallace.
"I watched a lot of interviews and listened to his voice. I read as much as I could. I had a dialogue coach, and I started to get the rhythm to the way he talks. I'd listen to videos, audio tapes, everything. You just deal with all the fear that's telling you that you're not going to be capable of doing this. It's a big undertaking and unlike anything I've done before. The movie is only the last four days of the book tour. Having done a lot of tours for movies, it is all consuming. It's what you are thinking about and talking about all day, every day."
I told him he did a great job of transforming himself, but I felt Eisenberg was playing the same character he always plays. He laughed, but really…it was a weird thing for me to say. It's not like he's going to talk negatively about your co-star. And besides, Eisenberg played the part well. It just wasn't a stretch for him.
Segel is a natural storyteller, and listening to him talk about the making of the film was great. He had a smile on his face, and an enthusiasm sharing stories. A lot of actors do these press junkets and it's like pulling teeth for us (which is probably why we could understand Lipsky's pain in trying to get answers from Wallace in the movie).
Since I thought the way Lipsky's character was shown in an unflattering light, that he must not have cared for this movie. Segel quickly told me, "No, no…he was a consultant. He was always there to answer questions and help us out."
[I did read that the Wallace family isn't so thrilled that the movie was made, but didn't bring that up]
One story Segel shared was about going into a book store to buy Infinite Jest. He said the cashier was a Ghost World type of girl, and rolled her eyes and said, "Every guy I ever dated had an unread copy of this on their book shelf."
I remember one episode of Siskel & Ebert where they complained about movie titles that are generic and forgettable. Since this movie was based on a book with a very unusual title (Although of Course You End up Becoming Yourself)…I asked if they considered keeping that title. Segel said, "When the script came to me it was The End of the Tour. So yeah, that was the script I received, although I do love the title of the book because it is right on theme. You know, you spend a long time trying to get us there and eventually you find out that there is no there. All that's left is to really be yourself and do the best you can."
When the conversation got around to the goofier characters he's played in Judd Apatow films (remember, the beginning of Forgetting Sarah Marshall had him standing there completely naked), Segel said, "Playing this character was a terrifying thing. There is a risk coming from my previous work, playing a guy who is known and loved, that no matter how good a job I did…the way that a body can reject a perfectly good organ…you might watch the movie and just say, 'Nope. I don't accept that. I do not accept Jason Segel as David Foster Wallace.' And going into Sundance that was a big fear that no mater how well I had done, that it just wasn't going to fly. I can't tell you how relieving it was that at Sundance people seemed to have the experience that you had where they were able to watch the movie, sort of unencumbered by anything I had ever done before."
The funniest story came after a question by talented actor and writer Lance Carter asked Segel about his worst audition. Segels eyes widened and he said, "Oh man, there were a bunch. There's one in particular where I was 17-years-old and a high school athlete. I was going out on auditions for the first time and I went into an office of a very old-timey producer. And he got up from behind his desk and came over and sort of started massaging my back. He said, "You, my boy, are groovy like a Hollywood movie.' I will never say his name, but I think that one was the most uncomfortable I've been on an audition."
When I responded, "You obviously got the part, right?"
He quickly said, "No! I didn't get the part, either."
As I was standing up to leave I pointed to the movie poster and said, "I love when movies have good soundtracks and great movie posters. So many times you just see a collage of photos from the actors, but this poster is awesome."
Segel threw his fist up in the air and said, "Yes!! Thank you so much. I think it's great, too. We had these other ones, but this is what we ended up going with."
For those of us that remember cassette tapes, and how annoying it was when they got tangled up…to see their caricatures created out of the tape coming out of a cassette…it was clever.
Now, don't just stand outside the theatre staring at the movie poster. Buy a ticket for this interesting character study.