This is an archived article and the information in the article may be outdated. Please look at the time stamp on the story to see when it was last updated.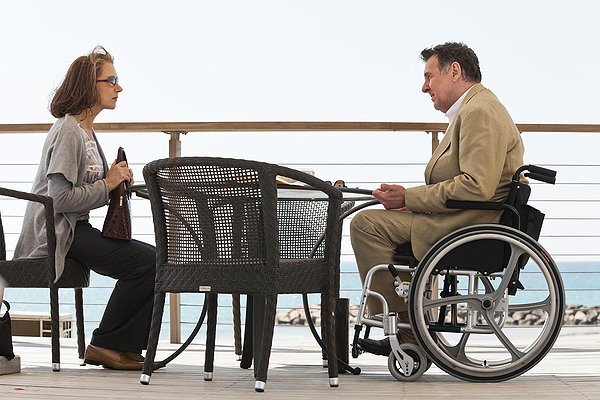 I never pay attention to all the hype people bring up about summer blockbusters, or movies being released for Oscar consideration, and so…I have no clue what time of the year great films are supposed to be released.
I do recall hearing that the end of summer isn't the time you can expect a lot of good films. So this was a pleasant surprise.
When Shakespeare in Love won the Oscar for Best Picture over the overrated Saving Private Ryan, I was one of the few that didn't have a problem with that.
That director – John Madden – is behind this. It's a story written by Matthew Vaughn. I enjoyed his Layer Cake and X-Men…didn't care for his Kick-Ass.
I was pleasantly surprised by this taut script. Sure, it might have a few flaws and a weak ending, but you'll like this movie. Trust me.
It's a remake of an Israeli film of the same name, and much like this falls release of The Girl With the Dragon Tattoo – I didn't see the original. I can enjoy this on its own merits.
Here's the story: It's 1997, and Mossad agents go to meet a former colleague, who immediately kills himself. We see flashbacks to 1965, where the agents have a mission to apprehend a Nazi war criminal. This surgeon performed unspeakable experiments on the Jewish captors, and he's now working as a gynecologist in East Berlin. They have to figure out a way to kidnap him and bring him to trial in Israel.
I've always thought going to the OBGYN for the first time would be nerve racking, but when you're feet are in the stirrups as a Dr. Mengele type is doing the exam…
This whole story is brought up in again in 1997 because the female agent (played wonderful by both actresses – Ciaran Hinds [The Help] in 1965, Helen Mirren in 1997), has a daughter that's written a book about her experience.
Sam Worthington (Avatar), who had a horrible acting performance in Last Night, is perfectly cast in this part. He's the quiet agent, who would rather keep his mind on the mission at hand, than check out any attractive women.
Tom Wilkinson, who has never done a bad performance, is one of the other agents (although at first you might be confused as to who is who, you'll soon be able to figure all that out).
It's interesting to watch Wilkinson and Mirren sit uncomfortable at the table as their daughter pours accolades on them and the experience they went through.
When you watch the kidnapping unfold, you'll be on the edge of your seat. I thought about going home and Googling train stations in Berlin to see if they really worked like that in the '60s. I decided I didn't care enough – the movie was exhilarating whether or not it was factual.
It's so interesting how some of the things don't go as planned and was so refreshing and original. You'd think by now, everything in a thriller has been done before.
We've all seen scenes where a captured person mouths off to his captors. In this, it was so much more realistic and interesting to watch than any picture in recent memory.
One of the missteps the movie has is the love triangle. I thought it played out poorly.
I also didn't care much for the ending, but I enjoyed every other second of the movie.
The performances in this are all strong, and you'll be seeing some nominations around Oscar time. And as much as I enjoyed the performances, they aren't worthy nominations.
There were only a few things I left the theatre wondering: Why people shave somebody they've kidnapped. Just let them grow a beard (unless you do it for that clichéd scene of having a razor blade at the throat).
I also thought about the many places people have hidden cameras in films.
I also wondered – if a few white lies were told to make your bosses think the mission went exactly as planned – is that really such a bad thing? And would the weight of those lies really be that burdensome?
This gets 4 out of 5 stars.