This is an archived article and the information in the article may be outdated. Please look at the time stamp on the story to see when it was last updated.
This year, as in previous years, it's going to be more fun to compile the list of worst movies. I waited to compile my list until I saw the latest Star Wars, which I caught this morning (it didn't make the list). I also waited for the latest Quentin Tarantino movie The Hateful Eight. The studio screened that on a morning I couldn't attend, but I've always been hit-and-miss with his films, so I doubt this would've made my Top 10.
This is the first year in awhile that no documentaries made my list, although a few came close (Drunk Stoned Brilliant Dead, Amy, Misery Loves Comedy, Cartel Land, to name a few).
Since you missed your chance to see these at the theatre, go find them now and thank me later.
The best movie of the year was….[insert drum solo here]
1. EX MACHINA.
The cast will get more attention for other movies this year (Domnhall Gleeson and Oscar Isaac for Star Wars, and model Alicia Vikander for The Danish Girl). All the friends I've recommended this to have loved it, except for a computer programmer who I went to one showing with. He griped about the coding somebody was doing not being accurate. Whatever. At a birthday party the other day, a woman gave me grief for liking Her (Joaquin Phoenix). She didn't buy the fact that a man could fall in love with a computer. Well, after watching Vikander in this, she might change her mind about who or what a person can fall in love with. Anyway, this is the type of science fiction film they should make more often.
2. ME AND EARL AND THE DYING GIRL.
I went to two press screenings of this and saw it an additional few times in the theatres. The studio was going to have the cast come to San Diego for interviews, but that never happened. That's a bummer, because it would've been great to congratulate them on such an amazing film. In the recent voting at with the San Diego Film Critics awards, I voted for Olivia Cooke in the actress category, and the only reason I didn't vote for newcomer RJ Cyler for Supporting Actor is I knew nobody else would vote for him and didn't want to waste my pick. But don't watch it for the performances — it's the story. You'll laugh, you'll cry…you'll be glad you spent time with these teens.
3. ROOM.
This movie first screened at the San Diego Film Festival. When I read what it was about in the program, I wasn't gung ho about catching it. Brie Larson has been great in a few overrated movies. I thought an indie film about a kidnapped woman would be a downer. The movie went in directions I didn't anticipate and had one of the most powerful endings I've seen on film in years. I was thrilled that the San Diego Film Critics voted Jacob Tremblay best "breakout performance."  One critic argued with me asking, "A 'breakout performance!' Well, where does he go from here then?"
I shrugged and said, "I don't know, 'Beethoven 3.' Hey, I'm not his agent, I don't know what he'll do next. What I do know is his performance in this was extraordinary."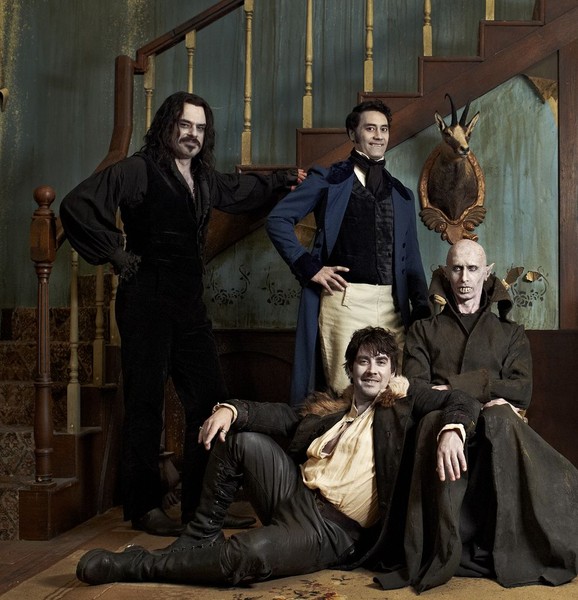 4. WHAT WE DO IN THE SHADOWS.
You won't see a funnier movie this year. I was thrilled that we voted it "best ensemble" over movies like Spotlight and The Hateful Eight. The star and co-writer of the movie, Jemaine Clement (Flight of the Conchords) saw how we voted, and gave us a few shout-outs via Twitter.
The premise is that it's a reality type show that follows vampires from various time periods that all share a flat. This movie was so fun, that at our voting, we all started talking about our favorite scenes. One critic laughed watching the vampires view a beautiful sunrise — on the computer. Another talked about the 3,000 year old vampire. And this is the type of movie, like Spinal Tap, where you can ask 100 people, and they'd have 100 different scenes they liked best. This is going to be one of those movies…Office Space, Clerks, Swingers…that didn't make much at the box office, but they make lists of the best comedies.
5. INSIDE OUT.
I was blown away this didn't win our award for "best animated movie" because it clearly was. We all agreed it was great — the voices, the script, the message. I think a few of the critics just didn't care for the fact that this was a Pixar blockbuster, and wanted to go for something a bit different (the two in our group that got the most votes were Shaun the Sheep and Anomalisa). This is one of those movies the adults will enjoy more than the kids.
6. GRANDMA.
This movie had a lot of buzz when it came out, but it's not getting a lot of nominations during awards season. That could be because Lily Tomlin played a snarky character we've seen before. Sam Elliott, as great as he was, may have had a really powerful scene, but he also had one that's hard to believe [telling Tomlin he'll lend her money if she gives him a kiss]. The supporting cast was solid, with Judy Greer, Marcia Gay Harden, Julia Garner, and the last appearance by Elizabeth Pena. The movie deals with abortion and dysfunctional families, and isn't for everyone. It was for me, though.
7. SLEEPING WITH OTHER PEOPLE.
The trailers made me laugh, but I never expect much from a former Saturday Night Live cast member, especially Jason Sudeikis. This did the one thing romances can't usually do — be romantic! That's tougher too, considering the fact that these characters might be sex addicts.
8. KINGSMAN: THE SECRET SERVICE.
This movie was a blast. It's the type of comedic action picture they should make more of. It's what I wish the James Bond films were. I talked to so many people that saw this and they all loved it. Yet it's the type of movie no critic will put on their list. Their lists are pretentious, filled with indie and foreign films they find so deep. Hey — sometimes going to a movie is about having a good time with guns, explosions, and humor; and this was a great time!
9. WHILE WE'RE YOUNG.
This movie and Mistress America (a movie that would've made my top 20 of this year), deal with young, hip filmmakers and both have fun scripts. They were so humorous, it's easy to forgive the few flaws.
10. THE DIARY OF A TEENAGE GIRL.
We've seen stories about artists that show the illustrations jump out on the screen to help the narrative along. Since this deals with a real artist (Phoebe Gloeckner), it's a lot more interesting in that regard. The performances are outstanding. Young Bel Powley as the artist, Kristen Wiig going against type to play an angry mother, and Alexander Skarsgard as the hippie having the affair with the underage daughter of his girlfriend — all should be discussed in awards season, and none of them will be. That's a shame. The least you can do is see the terrific movie they're in.
Now, for the worst movies of 2015.
It's a shame that each year we have lots and lots that go on this list. I'm guessing I'll be the only critic that has a few movies on my worst list that many have on their best list.
The worst movie of the year is….
1. FIFTY SHADES OF GREY.
This is the first time I've ever scolded a person for saying, "The book was better than the movie." No, it wasn't. The book goes on the list of Top 10 Worst Books — of all time! Sure, the movie fixed a lot of the poor writing, but what you had left with was — an idiotic and unbelievable story. Nothing sexy about rape, or manipulating a young virgin. I'm surprised how many women liked this dopey movie. I know of at least five that did.
2. BY THE SEA.
Angelina Jolie shouldn't write or direct. She's horrible at both. She looks great on screen though, and so does her hubby. Brad Pitt plays a guy with writers block. I wonder if Jolie had it when she was coming up with the screenplay.
3. BLACK OR WHITE.
Filmmaker Mike Bender impressed the hell out of me working with Kevin Costner in The Upside of Anger. I've gotten a bit angry and some of his films, this being the worst. It may have had a good message, but who cares when it's executed so poorly.
4. OUR BRAND IS CRISIS.
A movie where Sandra Bullock looks cute running around acting like she doesn't care…and Billy Bob Thornton walks around acting like a slimeball. How many movies have we seen that in? It probably didn't help the filmmakers that we have more real life political drama going on these days. A predictable and unfunny script, with characters nobody will care about.
5. FURIOUS 7.
I'm baffled that the critics were generally kind to this, mostly because it was a swan song for Paul Walker. The movie is crap, but if you like watching fast cars fly out the windows of skyscrapers, into the windows of other buildings — this is for you.
6. HOT TUB TIME MACHINE 2.
I don't like putting movies like this on a "worst" list. Most people assume the second films of wacky comedies will be bad, but what made this so disappointing was how funny the first movie was.
7. CAROL.
Rooney Mara and Cate Blanchatt are two of the best actresses working today, and a story about them trying to have a relationship in the early '50s should be interesting. It was the longest two hours I spent at a movie this year, and it's more puzzling that all the critics are praising it. After all the award nominations it receives, people will go to see it, and they'll all be ranting about how crazy movie critics are. Take my word — this movie will be a disappointment.
8. MISS YOU ALREADY.
I don't miss it.
9. THE BOY NEXT DOOR.
Jennifer Lopez. 'nuff said.
10. JOY.
Writer/director is an interesting filmmaker, but not the strongest writer. American Hustle was good, but Silver Linings Playbook was a mess. Joy uses a lot of the same cast and it's filled with scenarios that wouldn't happen and characters doing things they wouldn't do. It's a dark comedy with no laughs. Of course, Jennifer Lawrence will be praised because…that's apparently what you have to do if you're a critic [side note: If she kept making movies like Winter's Bone, I would].
Honorable (dishonorable) mention goes to…D Train (Jack Black should get on it and not come back), The Second Best Exotic Marigold Hotel (they better not make a third), Burnt (the chef must've burned the screenplay), and Stupider Ascending.