This is an archived article and the information in the article may be outdated. Please look at the time stamp on the story to see when it was last updated.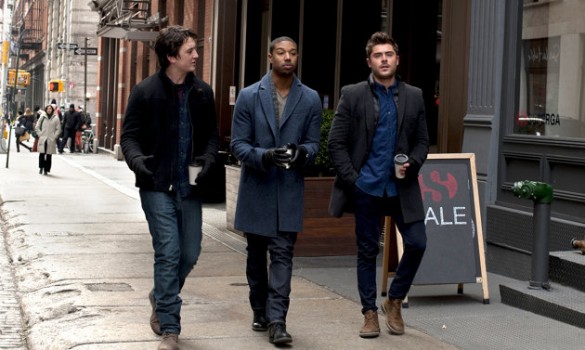 The early reviews for this movie haven't been good and when you hear the premise and find out just how many clichés and d**k jokes this movie has…you'll think if you're not a teenager you won't enjoy it. Well, you're going to be pleasantly surprised.
What made the show Sex and the City great (and the movies horrible), are the gags. They have to be written cleverly and delivered well. Otherwise, it's just young people in the city looking to get lucky. These guys are in their late 20s, have good jobs, and don't want to be tied down.
Lots of the stuff going on is so cliché, and you'll have a hard time believing. For example, I seriously doubt three intelligent young men would have problems telling their friends they're falling for a girl that's part of their "roster." You see, they made a pact to stay single, in solidarity to the one (Michael B. Jordan of Fruitvale Station) who was dumped by his wife.
I had a hard time believing a character would misunderstand the theme of a party when he was told to dress up, or to not know his girlfriends parents would be attending. Yet when I'm laughing and enjoying the movie, I really don't care.
The guys all have chemistry with each other and are rather charming with the ladies. We can see why they'd hang out together, and why women in bars would go home with them. Well, one of them is Zac Efron. I'm guessing he wouldn't even have to even be charming to get a woman to go home with.
The story with Jordan's character and his wife are the least interesting. The one with Efron and a woman he had a one-night stand with that he now has to see at work…almost doesn't work. Yet even with those couples not having great scenes together, we always have a blast when the guys hook back up to play video games, drink, or poop and/or urinate together. It's kind of like how we liked when the Seinfeld cast would meet in that diner and discuss their love life.
The most enjoyable person to watch in this is Miles Teller, and I sound like a broken record telling you that yet again. He was great as the sullen kid in Rabbit Hole. He was fun as the partying teen in 21 and Over and Project X. He was good in the remake of Footloose as the southern kid. He was impressive as the alcoholic in this year's The Spectacular Now. And now – another fun performance where he steals the show.
It's refreshing that the female characters in this, although given a lot less screen time, were also well-written. That would include Mackenzie Davis as the girlfriend of Teller, and Imogen Poots as Efron's squeeze.
I hated the score of the film, which at times sounded like an '80s sitcom and other times, like something out of On Golden Pond.
This movie isn't going to remind anybody of their life in the their 20s (who has jobs designing book covers for a publisher and sleeping with gorgeous women in a cool loft in New York), but it'll remind you of other comedies that feature young men trying to score. Yet since it's done with a bit more wit, it's a rom-com that both sexes will enjoy.
The 3rd act almost sinks the picture, but by then you're having so much fun with these guys you won't care.
The early reviews haven't been positive, but it scored points with me. I'm giving it 3 stars out of 5.