This is an archived article and the information in the article may be outdated. Please look at the time stamp on the story to see when it was last updated.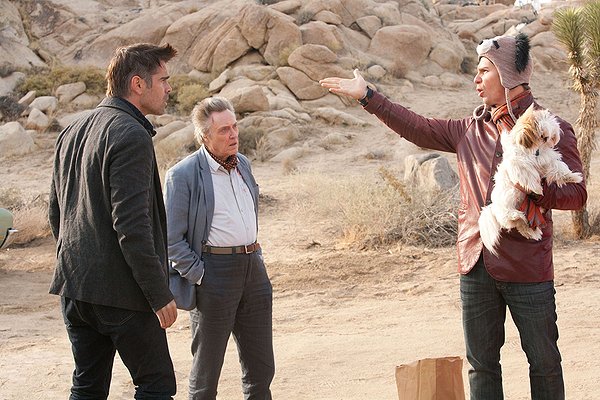 As a writer, I am usually hit-and-miss with characters that write on the big screen. The Words got so much wrong. A movie like Adaptation got so much right. Colin Farrell, who has really shown he can act the last five years, is again in writer/director Martin McDonagh's dark comedy. He's the mad genius that gave us In Bruges.
Farrell plays a screenwriter trying to finish "Seven Psychopaths." His buddy Sam Rockwell (who steals every scene he's in), is an unemployed actor. He doesn't wait tables the way other struggling actors do. He instead steals dogs and collects the rewards. His partner in crime is Christopher Walken. We don't mind him doing this, because he's using the money to pay for his wife's cancer surgery.
Woody Harrelson has played the crazy guy before, but it's fun watching him threaten everyone in his path when his beloved shih tzu disappears.
I was bummed that Rockwell didn't get an Oscar nomination for Moon. I'll be angrier if he doesn't get one for this.
The movie has a few problems. One of them is the stories Farrell is writing. Harry Dean Stanton was a perfect choice as a religious man seeking revenge on the guy who killed his daughter. It just goes on and on. I also disliked the story about the Viet Cong soldier disguised as a priest.
I thought about how other movies that involved writers showed their stories in a quicker fashion, and they were better short stories. In The World According to Garp there were a few. They were all very quickly told and interesting.
I also had problems with the third act. It just becomes a ridiculous series of shoot-outs, which might have been a bit more fun had we not scene Walken refusing to put his hands up in the commercials every day. I had similar problems with the ridiculous third act in In Bruges.
You often hear people complain that there aren't any good roles for women. When we see the men in this picture with great scenes (including former San Diego musician Tom Waits)…and Abbie Cornish, Olga Kurylenko, Linda Bright Clay, and Gabourey Sidibe (Precious) are hardly on the screen.
I'm guessing Anderson Cooper will get angry when a screenwriter is given advice about doing a dream sequence and Farrell replies "Dream sequences are for f**s!"
I got angry at all the interesting characters, great scenes, and funny lines all being wasted in a film that needed to be reigned in a bit.
I talked to director Martin McDonagh at the San Diego Film Festival. Since I thought the shih tzu was perfect, I asked "Were any other dogs considered? You have this great cast assembled, but did you search for the perfect dog? Did you consider a Schnauzer or a Maltese?"
McDonagh: "No. It was always a shih tzu, right from the beginning." He points to the movie poster that reads "The shih tzu hits the fan."
He continued, "I didn't realize just how many puns the studio would use off of it, though."
Since I had heard a guy from Access Hollywood tell him his favorite scene was when Rockwell described a scene he wrote for Farrell's movie. It involves heads exploding, lots of machine gun fire, and craziness. I thought this might sound rude, but I had to say: "That scene was good, but it reminded me too much of Adaptation. The scene when the goofy brother, who thinks he can write screenplays like his successful brother, describes the most idiotic scene."
McDonagh replied, "I saw Adaptation when it came out and I liked it. I didn't remember that scene, but a few times during the filming, people brought up that movie. I watched it again and thought 'Oh shit, this is a little like that.' I don't care. I wrote the scene and wasn't thinking about it at the time."
It was fun listening to McDonagh talk about the film, and how he did a play with Walken and Rockwell three years earlier.
When somebody asked him if there was a lot of improve on the set, he said that there wasn't. The actors read just what he had written, unless it involved Rockwell or Farrell adding a line or two to get to the dialogue.
The soundtrack was chalk full of some gems by Hank Williams, Townes Van Sant, Joe Strummer, The Walkmen, and Deer Tick.
Make sure you stay for the closing credits with Colin Farrell a phone booth. That scene alone was better than the movie in which he was in one the entire time.
This gets 2 ½ stars out of 5.