This is an archived article and the information in the article may be outdated. Please look at the time stamp on the story to see when it was last updated.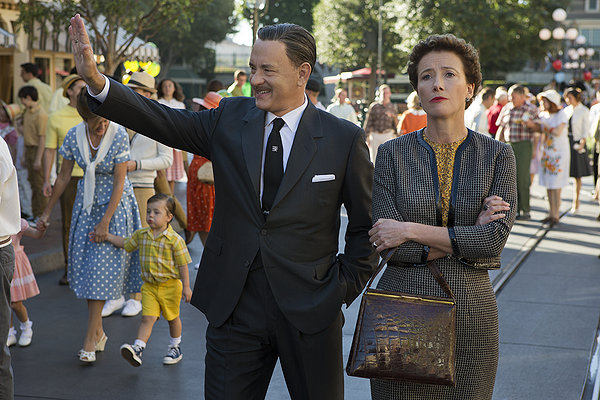 This movie stars two actors in lead roles that between them, have four Oscars. Hell, even the limo driver in this is an Oscar nominee (Paul Giamatti). This piece of Disney propaganda is certainly Oscar-bait, and I'm even willing to look past the revisionist history and the facts they conveniently left out (P.L. Travers being bisexual, Travers not liking the movie and putting the kibosh on all sequels, to name a few).  All that would be forgiven if they gave us a great film about the making of a classic Disney film. Yet just like the movie Hitchcock was a boring film about the making of Psycho, this movie is never supercalifragilisticexpialadocous (that just blew my spellcheckers mind).
This movie tells the sometimes fictional story about how the 1964 movie Mary Poppins came into the hands of Walt Disney, after 20 years of him vigorously pursuing the rights. Oh, and we're supposed to think P.L. Travers is a major b**ch for wanting some creative control. Although, nobody seemed to think J.K. Rowling was, when she asked for (and got) the same demands when Harry Potter was turned into a cash-cow movie franchise. Book writers are notorious for being difficult and not wanting their baby changed, and not being happy with the outcome of the movie. Stephen King has always talked about how horrible he thought the movie The Shining was, even though it's often on lists of the best movies ever made (recently it was voted the most scary movie of all-time).
This movie will get lots of Oscar nominations and will make a lot of money. Families will go (and bore the heck out of their kids), but it's really not very good. Sure, Emma Thompson is always amazing…and there are a few good scenes. That's just not enough to warrant rushing out to see this.
We see all the disagreements between Travers and Disney, as well as interesting scenes with the songwriting team (Jason Schwartzman and B.J. Novak). There's always something fun about somebody in a movie saying they hate a song, when we know it's going to be a hit.
Since Travers was going broke in England, she decided to sell the rights to Disney (I'm guessing a spoiler alert wasn't necessary there).  She flies out to Los Angeles to work on the screenplay, as flashbacks reveal a poor upbringing in Australia, where she deals with a charming and encouraging, yet alcoholic father (Colin Farrell). Those scenes were awful and really needed to be retooled.
I left this movie thinking Van Halen weren't so mean for demanding certain colors of M&Ms backstage. Travers could really make some demands. It's just a shame that the actors in this story couldn't demand the director and screenwriter give them a more compelling  drama about a few headstrong people that made one of the most popular films ever.
Be warned – I saw four kids at the screening of this. Two of them kept talking the entire time. The other two talked their parents into leaving early. You're better off just letting them watch the Mary Poppins DVD.
This movie gets 2 stars out of 5. Don't believe the hype.