This is an archived article and the information in the article may be outdated. Please look at the time stamp on the story to see when it was last updated.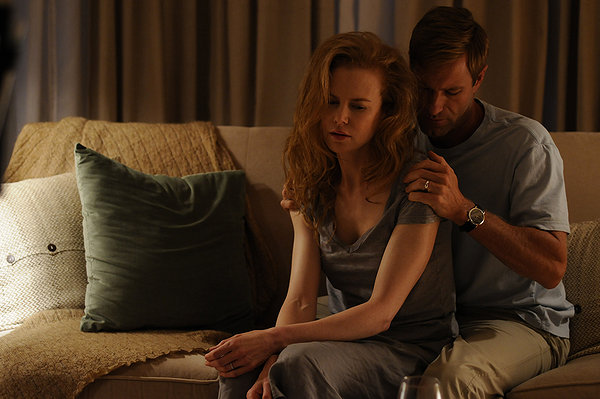 I made my list of the 10 best movies of the year right before seeing this. It would've made the list.
David Lindsay-Abaire's Pulitzer and Tony winning play is done marvelously as the first film Nicole Kidman has produced. It also produced the best performance of her career, and one of the best by Aaron Eckhart.
They play a couple grieving the loss of their son. Usually the expression "everyone grieves differently" is applied when a man starts dating two months after his wife dies or something odd like that. This is another example of how that expression works. Kidman despises everyone that tries to comfort her. It could be a neighbor, her mother, and her husband. Even if that means it's driving a bigger and bigger wedge between them, at a time when they really need each other.
Eckhart is obviously sad, but doesn't quite seem "sad enough" in her eyes, which makes her even angrier. You want to hate Kidman for being so mean, but you can't. How could you? We can only imagine how insanely grief stricken she must be, and she actually might have a point. Why isn't her husband crying on the floor, instead of smiling as he watches videos of his son on the cell phone? Why is her husband trying to be romantic? Why the neighbor coming over as if a grieving man wants to discuss gardening techniques? And who the hell does her mom (Dianne Wiest) think she is to discuss grief with her? Well, let me tell you…when they get around to having that conversation, it might be the most heart-breaking thing you ever see on film. Just devasting, and just terrific filmmaking. As far as I'm concerned, give them all Oscars.
The title refers to a comic book a kid in the movie is working on, and I'm reluctant to tell a lot of the side stories. They're so much more interesting to discover as you watch.
When the couple goes to grief counseling, we could've guessed it would be a nightmare. This means Eckhart goes without her, and becomes close to Sandra Oh. The bonding helps them deal with their loss. It seems to comfort him that she actually opens up about her loss, as oppose to how his wife is about discussing anything. They also enjoy a toke or two before and after the meetings.
When the house is finally put up for sale, you watch as Eckhart is showing the place. He has these facial expressions that are absolutely brilliant. I don't know if the director kept doing various takes to get them, or if he instinctually did this. He's basically putting on a brave face as he shows the childs old room. He mentions the boy died, and looks away. It's not a look of grief. It's a look that's trying to say – I'm moving on. Don't worry about me. Just look at the house like normal people do when they're buying a home.
There are other times when he fights with Kidman, and his yell is perfect…or the way he averts his gaze.
I liked the movie Eyes Wide Shut more than most, but one scene I thought was awkward was Kidman trying to portray someone that wasn't so happy in her marriage (maybe that's because her onscreen husband was real life husband Tom Cruise). In this movie, she knocks that out of the park with her actions and facial expressions. And this is all done cliché free, which is an added plus.
To give you an example of how powerful movies are that deal with the loss of children – I remember being 12-years-old when Ordinary People was shown on HBO. I was playing Atari video games in my bedroom, and came out to get something to drink and saw my parents crying while watching it. I asked them about it the next day, and they described the movie. I've still never seen it, but will never forget the experience of watching my parents as they watched it. All I know about Ordinary People now is that it's considered the biggest mistake the Oscars ever made – awarding it Best Picture over Raging Bull (which was recently named the best movie of that entire decade!). That just shows how powerful people feel about movies that deal with the loss of a child.
It's going to be your loss if you don't see this amazing film.
This gets 4 ½ stars out of 5.