This is an archived article and the information in the article may be outdated. Please look at the time stamp on the story to see when it was last updated.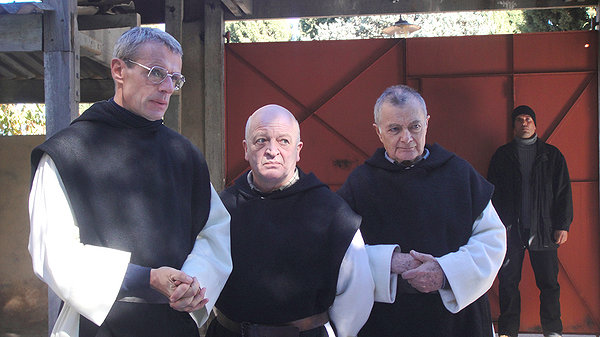 There have been many stories about men of war who make life and death decisions, but when men of peace make such decisions, it's both rare and powerful. Of Gods and Men is the true story of such men. And the third act of the film is very powerful, indeed. It's being immersed in the monks lifestyle for so much of the film leading up to it that was disappointing.
This is the story of eight Christians that left France for a monastery in North Africa in the 90s. Islamic fundamentalists start massacring people in the town. The Army offers them protection, which they refuse. They debate leaving, but decide against that.
It's the decision to stay, and the self-sacrifice, that didn't make a lot of sense to me. Just like in the recent movies Even the Rain (which I liked) and White Material (which I hated)…when people make a decisions to stay in a deadly situation, you don't have as much sympathy for them.
The problem this movie also has is perhaps something some will like about it. The pacing is a lot like the monks lives. No really rush to get the story told.
We see the monks pray, chant, eat, sell honey, tend to the sick, and even speak with a few of the villagers. It was nice to see they can talk about topics like falling in love, instead of just being in the town to convert folks. These guys really do have their hearts in the right place.
How many times do I need to see them chant and pray, though? I'm guessing they chanted in at least five scenes in the movie, which is at least three times too many.
I don't usually find movies slow. Sometimes pacing a movie a certain way is necessary (the way it was in Lost in Translation). Other times it's not (the way it was in Somewhere, both Sofia Coppola films).
There were a few scenes I really enjoyed.
The first meeting with the terrorists was interesting. The various close-ups that show every expression and line on the monks faces (it's always surprising how many directors misuse close-ups).
The overall serenity in the lives the monks lead was at times interesting.
There's one segment where Tchaikovsky's Swan Lake is played, and it's every bit as powerful as hearing it in Black Swan (perhaps more so). Especially when we get the feel that it won't be long before their goose is cooked.
Overall, this movie is a bit thin to warrant the two hours you spend watching it.
I'm giving it a D+.