This is an archived article and the information in the article may be outdated. Please look at the time stamp on the story to see when it was last updated.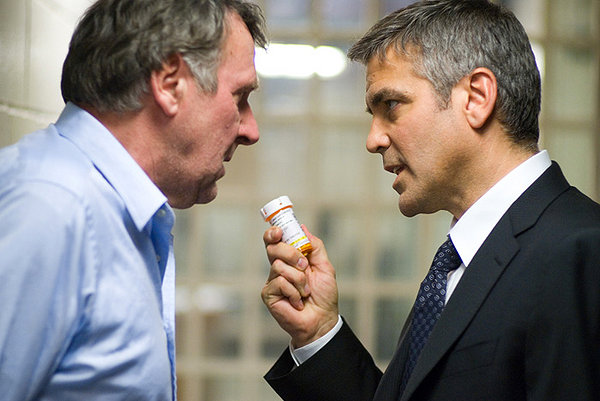 This movie had the vibe of those '70s thrillers that were slow boiling affairs. Think The Conversation with Gene Hackman. That can be both a good and bad thing. The paranoia and things of that nature were done wonderfully in this. I also liked that tension could build up by a conversation in a room.
Michael Clayton (George Clooney) trying to explain to a client why his legal situation is probably worse than he realizes and the guy gets angry. It doesn't erupt into punches or gun shots. There's enough tension just by listening to the predicament the characters are in. Those are the small moments in a movie where you wonder what you might do if you were in the same situation.
The screenplay was written by Tony Gilroy, who steps behind the camera for the first time. He wrote all the Bourne films, as well as The Devil's Advocate and Dolores Claiborne. He was smart in bringing cinematographer Robert Elswit on board. He's done all the Paul Thomas Anderson movies, and he uses great shots in this that nail the tension in the room, or evoke the quiet stillness of an early morning drive. None of those shaky cams from the Bourne flicks here.
I really don't think things would've been different if one of my favorite directors — Sydney Pollack — had done the picture. Instead, he plays the head of the law firm Clayton works for. He always exudes a confidence that is just right for a boss. I liked him in the underrated Eyes Wide Shut, and he stole the scenes from Dustin Hoffman in Tootsie.
This picture is helped greatly by such an outstanding cast, as it has a few plot holes.
Tilda Swinton plays a tough-as-nails attorney and her scenes with Clooney are stunning. Tom Wilkinson is an actor I love, but I didn't completely buy his character.
Basically, the firm is in big trouble, because of some poison pollutants in the air. Wilkinson is in charge of working this case and is on the verge of taking care of it; but he's bipolar. He stopped taking his pills, stripped naked, and ran through the streets. Michael Clayton is a character I never really understood. He works at the firm, but his job is "cleaning up messes."
He expresses interest in being back in the court room, and it's implied that he muffed that up somehow. I think. I'm not really sure, I was confused by it all.
A side story involving Clooney gambling on a lot of different things is interesting. He gambled on starting a restaurant with his brother, and he…gambles. He shows up at odd times at a gambling house in Chinatown.
Of course, he keeps borrowing money from Pollack, which keeps him under his thumb.
As much as I was enjoying the low-key ride this was taking me on, I just found it all so implausible. I won't get into why, because that would spoil a lot of the suspenseful moments.
When the movie ended, I realized it wasn't as suspenseful as it should've been. The entire "crazy people might be on to something" thing just didn't work on me so well. It just wasn't as clever as it thinks it is.
On a few side notes: It had to be an inside movie joke having Wilkinson carrying a bag of groceries, filled with 15 baguettes. They always say in movies, if somebody is carrying groceries, there will be French bread sticking out of the top.
Also, Coach Reeves from The White Shadow (Ken Howard), a show I loved as a kid, was unrecognizable. Why such a small role for him?
Anyway, this movie gets B-.