This is an archived article and the information in the article may be outdated. Please look at the time stamp on the story to see when it was last updated.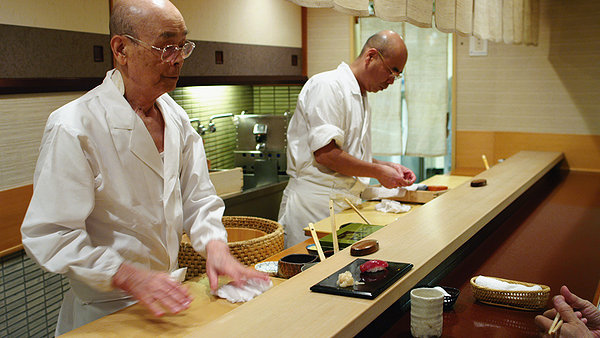 Jiro Ono is an 85-year-old sushi chef. I think it's safe to say he's the best in the world. His place is the only restaurant of its kind to be awarded a 3 star Michelin review (the best, in what we're told is a prestigious publication). It's a great feat, considering it only seats 10, and is in the basement of a building near a subway station.
Sushi lovers travel from all over the world, after making reservations months in advance (and having to order a minimum of $300 worth of food).
Now, I'm guessing many critics will mention scenes being "mouth watering" or how they left the theatre hungry. Maybe the fact that I like popcorn and Red Vines so much more than sushi made me enjoy this film less. It shouldn't have, since I enjoy interesting documentaries. And Jiro is certainly an interesting person.
The film was beautifully shot. It was beautifully scored, with Philip Glass giving us a classical vibe that fit nicely with the Mozart and Bach we heard. It just wasn't very engrossing. The documentary was only 81 minutes long, and I found myself bored at times. The guy can also be hard to take. It makes me feel sort of sorry for his children. One runs the restaurant; the other started another sushi place. I have no clue where his wife is, even though we hear about their courtship. I don't know anything about his hobbies or where he lives. In fact, all we really know is this dude likes to make his sushi. We can also safely assume he's rich. And having had a poor childhood. He left his home at nine, when his dad passed away. He got his first taste of restaurant work, and never left.
The food critic we heard from doesn't add a lot. There wasn't anything all that interesting about a customer that shows up thinking he could just come in without a reservation.     And the trip to the fish market to see the various vendors will probably be intriguing to some, but who hasn't seen this thing before?
If I want to salivate while watching food being prepared on screen, I'll rent Big Night. If you think the idea of listening to an 85-year-old talk about massaging an octopus for 45 minutes (that isn't an "adult film), perhaps you should go check this out.
I had a friend tell me after we left the Jim Carey/Milos Foreman movie about Andy Kaufman "Why would they make a movie about that guy? He didn't accomplish all that much in life."
I disagreed and replied "I think most people could have interesting films made about them, even if they weren't famous comedians. I would enjoy watching a movie about anybody that made it to the top of their profession, just to see how their mind works."
I stand corrected.
It is a great title for a movie, and an adorable smile ends the film. I just found I was hungry for something else half an hour later.
This gets 2 stars out of 5.