This is an archived article and the information in the article may be outdated. Please look at the time stamp on the story to see when it was last updated.
A friend of mine tried talking me into going to meet Hunter S. Thompson, the gonzo journalist (Fear and Loathing in Las Vegas) who was doing a book signing. I didn't think it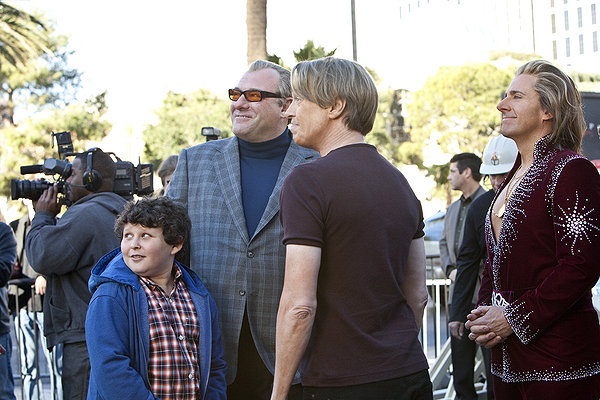 was worth spending an entire day in L.A. He killed himself not too long after that.
Another friend had tickets to see The Righteous Brothers at Humphrey's. Bobby Hatfield died fairly soon after that performance.
With those two situations, I don't regret not going, since I wasn't the biggest fan.
But a few years ago, my friend Judy had tickets to see God of Carnage. I was all prepared to go, and something came up. I can't believe I missed the chance to see Jeff Daniels, Marcia Gay Harden, Hope Davis, and James Gandolfini on stage. She told me the show was amazing. And we'll never get the chance to see Gandolfini on the stage again.
He started out on Broadway in the early '90s, with a six-week run in On the Waterfront. He also had a part in A Streetcar Named Desire, with Jessica Lange and Alec Baldwin. Not to shabby for an actor just starting out.
It was strange to hear that James Gandolfini died. He was only 51; and when we've watched a person act in many things, you feel like you know them. If you love the late night talk shows as much as I do – you see these people on Letterman and Kimmel – and you do know them. They share stories about their lives and you realize it's not Tony Soprano sitting there, but a guy that's smiling and enjoying life. That's something you can't say about every actor.
I've heard that Bob Denver (Gilligan's Island) hated when people yelled out "Hey Gilligan!"
When I did radio, a few different TV actors came in for interviews, and we had a list of things we couldn't ask. With Ron Palilo (Welcome Back, Kotter), I couldn't bring up that or his character name of Horshack. Jimmy "J.J." Walker told me he didn't want to spend more than one minute talking about his hit show Good Times.
I got a fax from Gregg Allman's manager with a list of five things I couldn't bring up!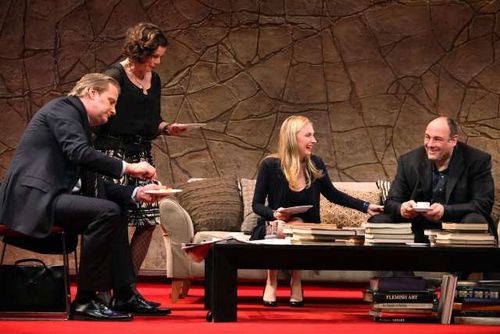 Even though I never interviewed Gandolfini, he never seemed to have a problem talking about his show, even when it was no longer airing and he was there to promote a new movie.
A friend of mine just called from New York and told me about a friend of his in New Jersey (where Gandolfini was born and raised, eventually graduating from Rutger's University). He saw him walking down the street, and couldn't remember his name. It's something another former bouncer turned actor we lost fairly recently – Michael Clarke Duncan – said happened to him. The fans don't remember your real name. Duncan would give anybody that approached $10 if they knew his exact name.
Well, this fan couldn't remember Gandolfini and merely yelled out "Yo, Tony!?"
With that, Gandolfini turned around smiling while he waved, yelling across the street "How ya doing, buddy?"
Those are the little stories you love hearing. This is a guy that, after winning an Emmy and Screen Actors Guild Award for playing Tony Soprano, had made it into that rare place where he was paid a million dollars an episode. You think somebody making that kind of money could smile and wave to fans. As we all know, it doesn't always work that way.
It almost didn't work for the last episode of The Sopranos. Gandolfini was riding a Vespa scooter, and was hit by a taxi. He needed knee surgery, and that put filming off another three months on that infamous last episode.
It pained me to hear CNN break in with this news of Gandolfini's untimely passing. They went to Larry King on the phone, and I was immediately reminded of why I was happy he retired. His first words were "He was really fat," and he mentioned his weight another few times in the five minutes they talked. At one point, he said "He wasn't shy around the table," as well as "He enjoyed his food."
Having more weight gave some weight to a few of the roles he's had. As a CIA director in Zero Dark Thirty, there was nothing more powerful than the scene in which he sits with (Oscar nominee) Jessica Chastain and asks a few questions about her and how sure she is about where bin Laden is.
He did a similar character in the very funny war parody In the Loop in 2009. I loved the fact that he wasn't jumping at just the big budget films like The Incredible Burt Wonderstone. That was disappointing, but his role as the casino manager who hired Steve Carell, he was perfect. He was tough, yet seemed like a real person. He wasn't just a clichéd movie type boss screaming at the top of his lungs. Even the way he throws out a line like "My son likes the s**t you guys do, but I'm not into magic. I'm into getting butts in the seats!"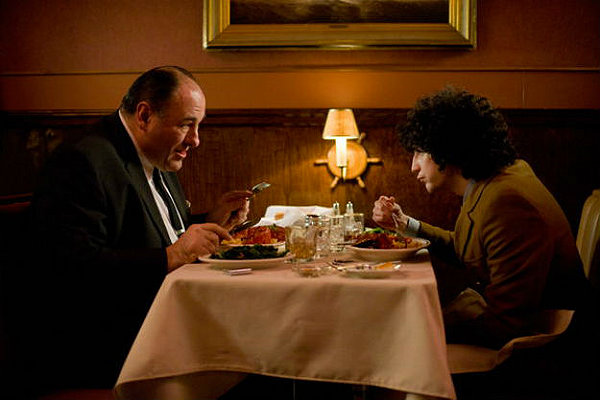 Last year he was in one of the more underrated movies – Not Fade Away. It's a must for any music lover. It was written by a writer from The Soprano's and takes place in New Jersey in the '60s. Gandolfini plays a working class father who doesn't like the garage band his son has formed. They argue about politics and life. Things aren't made a lot more emotional with the fact that he has terminal cancer but still puts on a brave face as the family patriarch. There's a scene where he hands his son money that had me bawling in my seat.
In the Brad Pitt movie Killing Them Softly from last year, he played a character he did often. He was a hit man. It was the best performance in the movie (that had many Oscar nominees). He was an alcoholic, and Pitt decided he was drinking and running around too much to do the job.
I thought of the indie movie Welcome to the Rileys from 2010 – he did something rather amazing. He got a great performance out of Kristen Stewart! The film was touching, and watching he and (Oscar winner) Melissa Leo as a couple having problems in their marriage, was great casting.
It's strange how watching Gandolfini on the late night shows, he would open up, but also seemed a bit shy. I thought about Letterman when I heard that Gandolfini had a 1-year-old child with his second wife. Having a child later in life is one of the things people knocked Letterman for when he had a son seven years ago.
Gandolfini also has a teen son from his first marriage.
He was apparently at a film festival in Italy when he had a heart attack. I went into panic mode when asked to talk about him on Fox 5 San Diego, only five minutes after hearing the news. That was mostly because I had only seen two episodes of The Sopranos. When it came to HBO shows, I was a Sex and the City guy (I probably just lost my man-card by admitting that). I just felt, after seeing Billy Crystal/Robert De Niro in Analyze This, that premise of a hit man with a family life, had been covered. So I just stuck with what I knew – the great roles he had on the big screen.
In the early days, he was always the tough guy. Hit men, stuntmen, mob characters.
One of Quentin Tarantino's first scripts, the underrated True Romance, had a great role for him. He soon was in some big films like Crimson Tide and Get Shorty.
I loved him in the war parody In the Loop.
Speaking of war, Gandolfini's dad received a Purple Heart in World War II, and perhaps that's why he had been doing a few projects close to heart. In 2007, he produced the documentary Alive Day Memories: Home from Iraq. He interviewed Iraq War veterans for the piece. In 2010, he produced another documentary called Wartorn: 1861-2010. That dealt with soldiers that had Post-traumatic stress disorder.
There had been a lot of rumors about a Sopranos movie. A lot of folks are going to be sad that's not going to come to happen.
I thought about how many people were so angered by the vague ending of the show, fading to black with the Journey song Don't Stop Believing.
I can't get these lyrics out of my head right now:
Working hard to get my fill/Everybody wants a thrill. 
Payin' anything to roll the dice/Just one more time.
Some will win, some will lose/Some were born to sing the blues;
Oh, the movie never ends
It goes on and on and on and on …