This is an archived article and the information in the article may be outdated. Please look at the time stamp on the story to see when it was last updated.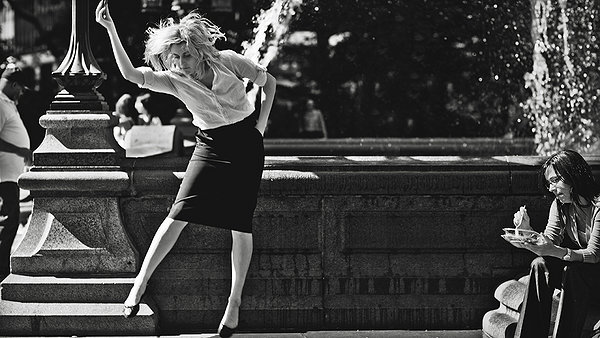 If you talk about a black-and-white movie starring a Greta, people over 70 will think Greta Garbo. If you talk about a movie with a character named Frances that likes to dance, people over 40 will think Dirty Dancing.
Greta Gerwig plays Frances Ha…in a movie she co-wrote with her boyfriend – director Noah Baumbach (what happened with his marriage to Jennifer Jason-Leigh?).
This movie combines a lot of styles – a little mumblecore, French New Wave, and written like a hipster trying to jack Woody Allen's style. Yet Gerwig, always wonderful in everything she does (despite me hating Damsels in Distress, and the movie she did previously with Baumbach – Greenberg).
She helps neutralize the directors bitterness and cynical leanings. In fact, Gerwig makes this character so charming, we always root for her and never feel like screaming "Grow up already!"
The character could've easily been too quirky and unrealistic. Instead, she's a confused younger person that has no money, no boyfriend…and we adore her.
That doesn't mean I adored everything about this movie. The plot is rather light. It has Frances dealing with a best friend that is moving in with a boyfriend she doesn't care for. She also wants to do more at the dance company she works with. She doesn't have the best luck with guys. One of her male friends constantly calls her "undateable." Yet she seems to wear that label with a smile on her face. It's why you'll love her even more. She can discuss that civilly while cleaning her room, without pouting and feeling sorry for herself.
Even the awkward way she rambles on at a dinner party is so well done, it makes you just angry at the things the movie gets wrong.
One of those is her relationship with her BFF Sofia, played by Mickey Sumner (daughter of Sting). My friend said to me after the movie "She was so ugly, it was distracting me."
I didn't mind her look, but thought they could've had more clever conversations and better shtick together. The audience wants to see why you're both so close, and why you would be fun to hang out with. It's never really conveyed. Pillow fighting, pretend fighting, and falling asleep in the bed together while watching a movie isn't quite enough. Yet when Frances moves in with two guys (Adam Driver, Michael Zegen) – they nail that perfectly. They seem like a group that would be fun to hang with.
A few times the writing came across as sloppy and lazy. There are a handful of jokes that have been used in other films. A young writer penning a script for Gremlins 3 – old joke; Sofia and Frances talking about how one can't keep dating a guy named "Georgie" because "How can you sleep with a guy named Georgie? You can't say 'Put it in me, Georgie'."
Cute, but it was funny when Billy Crystal used that logic on Meg Ryan in When Harry Met Sally (regarding the name Sheldon).
The first half is definitely stronger than the second. When Gerwig drifts aimlessly, the script is, too. Yet you're never bored watching it and there's usually clever dialogue, being complemented by Sam Levy's shooting in b&w.
This movie takes some unconventional approaches with certain scenes, and it was refreshing. One deals with a boss firing somebody, and how they handle that. Another involves a phone call that is heartbreaking, but doesn't go down a clichéd path. And when Frances tells Sofia about her fear in losing her as a best friend, the example is: "When something funny happens on the way to the deli, you only tell one person. You'll tell him, and I'll never hear about it."
That's rather thought provoking.
And for Baumbach to film a quick jaunt to Paris, that is the least romantic you'll ever see on film – complete with Hot Chocolate blasting out (and not You Sexy Thing)…there's a lot of interesting stuff going on here, folks.
The rest of the soundtrack included T. Rex, David Bowie, Harry Nilsson, Paul McCartney, and of course lots of Georges Delerue – the favorite French composer of Godard and Truffaut.
People are either going to love this or hate it, so do some research before spending the money.
I'm giving it 3 ½ stars out of 5.