This is an archived article and the information in the article may be outdated. Please look at the time stamp on the story to see when it was last updated.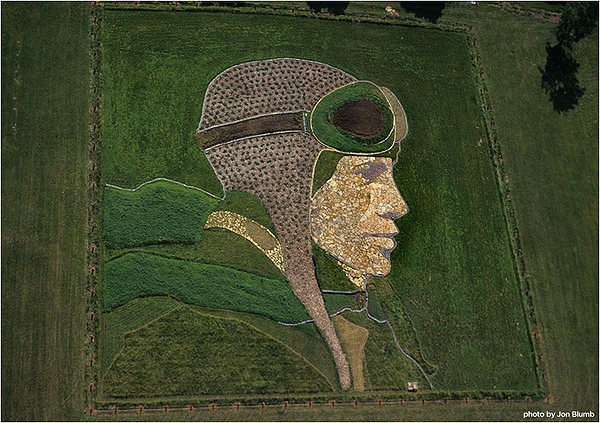 In Field of Dreams, Kevin Costner hears a voice that says "If you build it, they will come."
He then ruins his cornfield crops to build a baseball field. This doesn't make his wife happy, or the bank. They were on the verge of taking his farm.
I'm not sure what voices crop artist Stan Herd heard, but he's a farmer that isn't making any money with his unusual art pieces he calls "earthworks."
Those are made using soil, rocks, plants, and vegetation done in a certain way that creates a picture. Unfortunately, those pictures can only be viewed from a helicopter or plane.
Lucky for Herd, a helicopter pilot enjoys photographing them.
When he gets the framed prints, he tries selling them. Yet this lack of success doesn't stop him from going to New York. You see, Donald Trump isn't hiring an apprentice, but an artist. The lowest bid will get to do a piece of work on some land he owns, before he bulldozes and puts a building on it.
Herd wants the job so bad he tells the folks he'll do it on his own dime.
He informs his wife that Trump is paying him handsomely. In fact, so much that she can now go back and finish medical school.
What he really did was make a trip to the bank and forged her name on papers that could cost them their house.
It's at this point I found myself really conflicted; as great as his smile and down south charm is – it's going to be hard for me to root (no pun intended) for a guy making such bad decisions.
These thoughts continue when Herd rents a tractor that end up in a pond, and having to contend with homeless people that live on the land he's using.
He quickly butters them up with coffee, donuts, and kind words. I enjoyed the relationship he developed with a young graffiti artist who had some problems at home.
Herd is played by John Hawkes, who snagged an Oscar nomination in Winter's Bone – one of my top 10 movies from last year.
It's nice to see Hawkes in a lead role and it's only a matter of time before he gets bigger and bigger parts, and many more nominations.
One of the best documentaries last year was Exit Through the Gift Shop, about graffiti artist Banksy. During many scenes in this film, I wondered if it might have been better as a documentary.
I also wondered if Banksy would've continued to devote such time to his work if nobody saw it or cared. It seems an artist should create things because they love doing it. Herd seems to be creating them to make it big. That's a tall order.
There were things about this movie that bothered me.
Some scenes were slow.
I didn't like the movie clichéd eccentric homeless characters. There's the old black guy with a white beard that spouts off poetry, the guy that yells random things…
There could've been a better job done with some of the dramatic moments, whether that was an argument with the wife or dealing with the New York fat cats.
This could've been edited down to an hour and been something that aired on PBS.
As it is, it's a good first effort from writer/director/producer Chris Ordal. I found myself more emotionally invested in Herd than I thought I would be, and Ordal gets credit for that.
The guitar score used in this gives the film a folksy feel that's just right.
I won't tell you how the movie ends, but let's just say – you will not see it coming.
I'm glad that during the closing credits we got to see some of the real pieces Herd has created. There were beautiful sunflowers, an Amelia Earhart, and a Statue of Liberty that blows away the ones that rich and famous New Yorker Peter Max paints each year.
After the film ended, I was so eager to see more of his work, I checked online. I found he did ads for Absolut Vodka and Papa John's Pizza. I wonder if that means the other crop artists out there will call him a sell-out.
This documentary gets 3 out of 5 stars.