This is an archived article and the information in the article may be outdated. Please look at the time stamp on the story to see when it was last updated.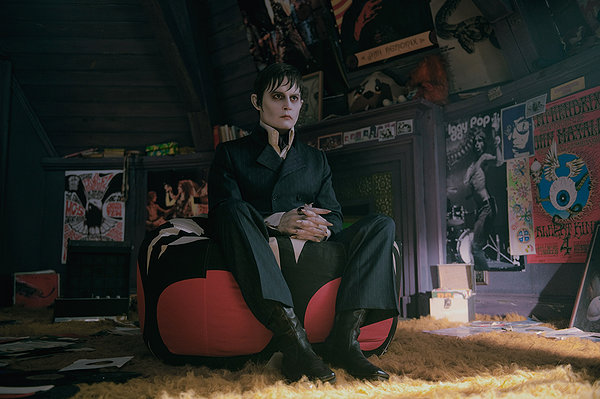 In my opinion, Tim Burton is the worst director making money in Hollywood. And it's not like things are going to change. He likes to remake stuff, and he puts Johnny Depp in it. This means the films make millions and millions. Why would anything change?
He's remade Charlie and the Chocolate Factory, Alice in Wonderland, Planet of the Apes, and now a soap opera about a vampire from the early '70s. I'm guessing the fact that I'm not familiar with the source material isn't the reason I didn't care for this.
The story is about a vampire named Barnabas Collins (Depp), who was a powerful and rich playboy. He broke the heart of a woman (Eva Green), not realizing she was a witch. He was quickly turned into a vampire (after she also cast a spell that caused his true love to jump off a cliff). Eventually, she gets the town to bury him alive and he spends hundreds of years underground. During some construction in 1972, a tractor hits his casket. This means he's able to get out and see a McDonald's sign and think it's the work of satan (I'm sure Morgan Spurlock would agree).
This means we get to have that fish-out-of-water material that can be funny, if it's written well. Some of it works here, some doesn't. The film was written by Seth Grahame-Smith, who gave us another vampire movie coming out soon – Abraham Lincoln: Vampire Killer.
When Depp returns to the mansion in Maine, he finds the estate and family business, in ruins.
Movies can combine comedy, campy horror, and romance. This one just doesn't pull it off. It's a shame, because the opening sequence was the perfect set-up. Even the moody atmosphere and songs of the '60s and early '70s worked (Nights in White Satin, Season of the Witch). And how are you not going to smile when Depp is mesmerized by a lava lamp that looks like globs of blood, or watching Alice Cooper through his opera glasses and proclaiming him to be the ugliest woman he's ever seen. It's funnier when he sees Karen Carpenter on TV and he breaks the back of the set yelling for the tiny songstress to reveal herself. The problem is…I think I just mentioned every single funny fish-out-of-water joke that worked. The rest look like they were on the cutting room floor from the last Austin Powers film.
I was disappointed that Chloe Grace Moretz (Hugo, Kick-Ass) wasn't given more to do. She's the rebellious teenage daughter.
Helena Bonham Carter (Burton's wife) was great as the alcoholic doctor that doesn't go over the top in the role. She was also the only thing I liked in Alice in Wonderland.
Jackie Earle Haley (Watchmen, Little Children) was perfectly cast as the alcoholic caretaker.
This movie had good production design, special effects, and a fun musical score (by Danny Elfman, of course).
There was no character development with the many characters thrown at us. And at nearly two hours, that's unacceptable.
The movie could've been another Adams Family, but instead it's as messy as the sex scene (which was fun, but shown in the trailers).
The movie is all fang and no bite. It gets 1 ½ stars out of 5.