This is an archived article and the information in the article may be outdated. Please look at the time stamp on the story to see when it was last updated.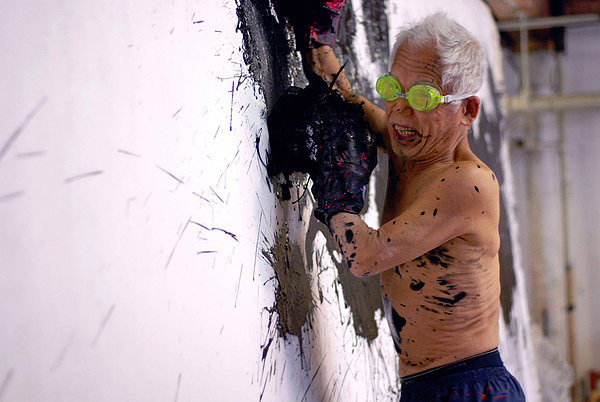 Many men hate that women want us to look and act like Ryan Gosling in The Notebook. They hate how love and marriage is portrayed on film. Well, this documentary shows an incredible marriage – warts and all. And you couldn't get a more interesting couple to feature.
Zachary Heinzerling documented the life of two struggling artists that have been married for 40 years.
Japanese artist Ushio Shinohara came to New York in the '60s and had a bit of success. He was riding that wave of avant-guarde stuff, and we even see clips of him with a Mohawk and using his hair to splatter paint on the canvas. He started doing these action paintings. He wears boxing gloves, dips them in paint, and punches the canvas. Think Jackson Pollock meets Boom Boom Mancini.
Shinohara also has a lot of paper mache style motorcycles and bizarre creatures, with vibrant colors splashed about. Again, we get to see clips of him in the '60s using cardboard from surrounding businesses and dumpsters to make his creations.
Of course, the canvas punching paintings are what he's best known for, and it makes a great visual to see an in shape 80-year-old pounding away. And it's nice that Heinzerling stayed away from the annoying shaky camera, too.
Watching Shinohara punch a canvas does make you shake your head when it comes to abstract art. It ranks up there with a paint brush in an elephants trunk. Fun to watch, but the finished piece wouldn't look so hot on your living room wall.
What takes this documentary into a much more interesting place, is that it doesn't just focus on his art. It features his marriage, a little bit about his son, and a lot about his wife Noriko. She was 19 when she met the 41-year-old artist. She got pregnant, and put her art career on hold. She also had to deal with his alcoholism, paying most of the bills, and when her parents stopped sending money – wondering where the money would come from. And just when we wonder why she'd prepare these wonderful meals for him when he can be rude to her or not even offer a compliment – he'll have a small gesture that shows he loves her; or she might say that she still loves him and that if she could do it all over again, she would.
It's got to be thrilling for Noriko to also be so prominently featured in the movie, including her illustrations coming to life to help tell a lot of their story. She also isn't shy about standing up to him when she needs to.
As you watch this and realize that they both love each other, you enjoy it on another level. The way you do when old people that have been married for 75 years snap at each other in TV interviews. It's one of the reasons he can say something like, "it takes an average person to support the genius," and we just roll our eyes. We can also take a bit of delight when he appears visibly upset that she gets to be a part of a gallery opening he's having.
It helps that Shinohara is never really that rude. Steven Spielberg might not like the fact that he said the last Spielberg movie sucked and that he's "too old."
It's a blast watching Noriko go toe-to-toe with him, and yet being so respectful, nervous, and thankful when a gallery owner is praising her work.
It's a bit painful to see her look at her son's self-portrait – an interesting painting that reminded me of Basquiat. Even more painful when we realize she might have to start dealing with a second alcoholic in the family.
This is an amazing look at how starving artists actually live. Now, if they could just find a way to get Spalding or Everlast to give them a boxing glove endorsement to help pay the bills…
This is how a documentary about artists should be made. This film is a piece of art, with such an incredible story arc. It won't be in theatres much longer. Go see it. It's at the Reading Cinemas Gaslamp, but I'm not sure how much longer.
This gets 4 ½ stars out of 5.