This is an archived article and the information in the article may be outdated. Please look at the time stamp on the story to see when it was last updated.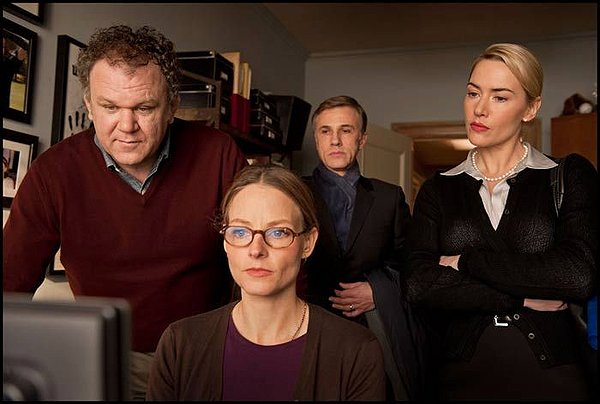 The cast of this movie has four Oscars, and a lot more nominations; so does director Roman Polanski…a person I wish these types of talented actors would boycott. That's another argument for another day.
The cast of the Broadway play this was adapted from (God of Carnage), wasn't too shabby either. It had Marcia Gay Harden, Hope Davis, Jeff Daniels, and James Gandolfini. I'm guessing his son is the one that assaulted the other boy.
The two couples get together in a Manhattan apartment to discuss a fight their children had on the playground, which led to one hitting the other in the face with stick.
As John C. Reilly, Kate Winslet, Christoph Waltz, and Jodie Foster hash out the details, they go through every emotion imaginable. It was one roller coaster of a fight.
I was digging the cynical vibe of it all, but at times it did get a bit repetitious.
Waltz plays a lawyer that's always on the phone, dealing with an important case that might make the news. We get to hear bits of his conversation, and we're amazed that he often has the best insight into the argument that continues without him.
Reilly plays a guy that sells hardware, and once he whips out an expensive Scotch (and a few Cuban cigars), folks get a little more honest. This is when we really start to see how annoying Foster can be, playing a liberal type that many of us have probably met. Sure, she cooked a cobbler, that was nice. It's the only performance in this worthy of an Oscar.
I'm guessing others from this will get nominations.
At times, you'll be reminded of Who Remembers Virginia Woolf? And even though these characters never make it outside like they did in Woolf, at least you never really feel claustrophobic. They sometimes end up in the kitchen, in the elevator, or puking in the bathroom (and on Foster's prized book collection, in what could be the grossest barf scene in movie history).
A play that last year was adapted for the screen that was better, was Jack Goes Boating (starring Philip Seymour Hoffman, who also directed).
This is a Polanski movie called "carnage" yet it's only a pet hamster that's killed (I won't give the details; it would be a shame for you to not hear Reilly tell it).
I'm guessing this probably worked better on the stage, but I'll take interesting dialogue and debate by talented actors, over Bruce Willis kicking out windows and shooting bad guys. I just would've preferred a premise that worked a little better. It's a bit hard to believe these couples would sit there for an hour and 15 minutes (the length of the movie), berating each other. Nobody ever thought to say "Look, we aren't really accomplishing much here. Thanks for the cobbler, but we really have to get going now."
I sure wasn't sorry I sat through this, but I'm guessing a lot of people will be.
I read a story that said this movie "only" cost $25 million to make. I was surprised it wasn't $25,000.
I'm giving it 3 ½ stars out of 5.