This is an archived article and the information in the article may be outdated. Please look at the time stamp on the story to see when it was last updated.
I've always hated bullies. In elementary school, I remember a short guy that was a horrible bully. Luckily for me, I could make him laugh and he respected my basketball game. Yet I still walked the other way if I saw him anywhere on the playground.
When I was 11, I watched a movie called My Bodyguard that dealt with bullies. I was so thrilled when it ended, I ran home from the theatre with my arms in the air like Rocky on the steps of the Philadelphia Museum of Art.
In 8th grade, I knew a guy named Michael Timmons hanged himself. He was bullied.
I'm all for schools expelling kids that bully, with zero tolerance. Now bullying is done online and not over the internet. That being said…it made me even more disgusted that actress Kim Novak claims she is being bullied by the media. This is an actress that was one of the most beautiful women in the '50s and '60s.  She was in my favorite Hitchcock film – Vertigo. But she showed up at the Oscars looking like Kathleen Turner…if Turner had been run over by a truck. Of course everyone talked about it. She said afterwards, "It really did throw me into a tailspin and it hit me hard." She added, "I will no longer hold myself back from speaking out against bullies. We can't let people get away with affecting our lives."
Of course, one of the people to immediately comment was Donald Trump. Talk about the pot calling the kettle black. Has he looked in the mirror lately? But I digress.
At the Oscars, she was with Matthew McConaughey presenting. I can't speak for all the other media members, but I have been knocking his appearance ever since Dallas Buyers Club. He looked awful and it was distracting from the film, as it was in The Wolf of Wall Street. Guess what, Hollywood stars? You make millions, more based on your looks than acting talent. So if you don't mind making millions early in your career, just realize later in your career, the National Enquirer, TMZ, and all those other outlets will show the unflattering pictures.
Oh, and get this. Novak said the reason her speech was so slurred during that Oscar presentation, was because she took some funky pills before going out there. She also hadn't eaten in three days. Well, instead of this crusade against "media bullies" how about discussing the dangers of going three days without eating? (McConaughey might have a few things to say on that topic).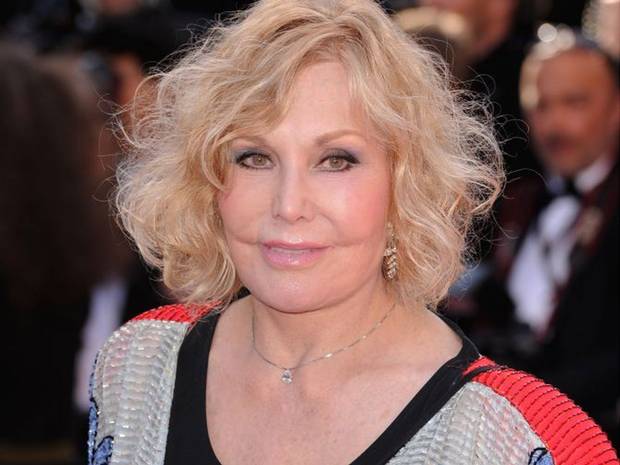 And since most of us were making fun of the bizarre surgery she had to your face, how about talking to young women about the dangers of doing that? I'm guessing that it would be a lot more beneficial to talk to teen girls about feeling more confident in themselves, instead of feeling they need breast enhancements, a face lift, or developing an eating disorder; just to make it in Hollywood, modeling, or simply to be more attractive to that guy in your 5th period science class. That would be a lot more productive than attacking the media.
Trump said she should sue her plastic surgeon. That's a great line. Novak shot back, "I'm not going to deny that I had fat injections in my face. They seemed far less invasive than a face lift."
Part of me does feel bad for actresses. There are already a lot fewer roles for women in Hollywood and once they got older, even less (unless your first name is Meryl, and your last name is Streep). But Novak is 81-years-old! Nobody is expecting an 81-year-old to look amazing. Hell, when we saw Paul Simon the other day on the news (after that little fight with his wife), we were all shocked. He's in his early '70s, and didn't rely on his looks for a career…and we still talk about it. Get over it. I seem to recall Liza Minelli actually being made fun of DURING the Oscars, and we haven't heard her gripe about it (although we can't be sure she even remembers the evening).
Now, on to the subject of beauty.
I couldn't be happier with the choice People magazine made for the "Most Beautiful Woman in the World." I love that the word "world" is included in that, too. As a kid, I'd watch the Lakers playing the "World Championship" and would always wonder – did they beat the teams in China and Australia to get here? I just remember them beating the Rockets and Spurs.
Lupita Nyong'o is the 31-year-old Kenyan-Mexican actress from 12 Years a Slave that was named the title of "most beautiful." Even though 12 Years was one of the most overrated movies of the year, she was great in it.
When she won the "Best Supporting Actress" Oscar, she looked gorgeous in her blue dress, and her speech was the best of the night.
As goofy as Halle Berry was when she won the Oscar and claimed she broke down barriers – Nyong'o isn't the first woman of African descent to snag this award. Berry won it in 2003, and Beyonce a few years ago.
What's great about this choice is the fact that often times, People seems to have an agenda. Angelina Jolie was given the award, but she had given People the scoop about being pregnant with Brad Pitt's baby.
Other times, it's a celebrity that has some social cause, or is in their 30s or 40s. People wanted to show that older (by Hollywood standards) women could be "beautiful."
Nyong'o is in her early 30s. She isn't in some Hollywood scandal. Rumors have it that she broke Jared Leto's heart, and is now dating rapper K'naan. She's not pushing a big blockbuster.
I remember laughing when Julia Roberts won it in 2010. I don't think I've ever seen a photo of her and thought "That's a beautiful woman." Her mouth is huge, her eyes are beady. Don't get me wrong, she can be cute on screen. Photos just aren't very flattering of her, and she's won the award multiple times.
Nyong'o has said in interviews she used to pray for lighter skin when she was a child. I'm guessing she was probably bullied at one time or another. It makes it all the more thrilling that she'd be bestowed this award, which she clearly deserves. Maybe Donald Sterling doesn't feel the same, but…