This is an archived article and the information in the article may be outdated. Please look at the time stamp on the story to see when it was last updated.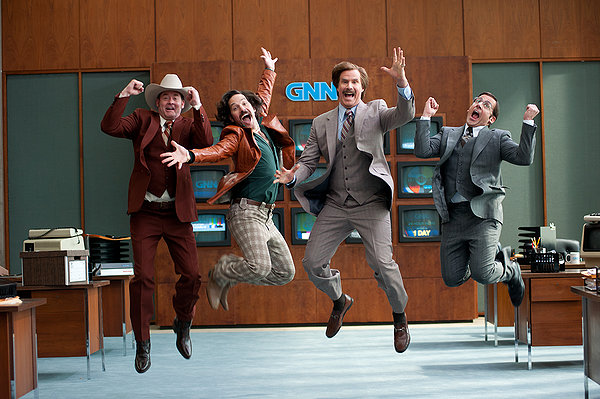 The first Anchorman really wasn't that good. It had about five truly funny scenes, and a handful of other jokes that were mildly amusing. Anchorman 2: Newsroom Boogaloo, was  just awful. That doesn't mean there aren't a few visuals that work — an RV crash showing the guys in slow-motion doing wacky things and weird facial expressions. Aside from the unfunny jokes, there are also jokes "borrowed" from other films; the bowling balls and scorpions in the RV…that's a play on the fruit stand and big piece of glass that's hit by a car in Wayne's World. They also took the somewhat humorous scene with Will Ferrell uncontrollably saying "black" when he meets his new boss (Meagan Good) – an African-American woman – was also taken from a Mike Myer's film, Austin Powers in Goldmember. The scene where Wayne and Garth meet Fred Savage, who has a huge mole on his face. Mike Myers can't control himself as the word "mole" keeps slipping out.
A scene that has a character trying to hang himself on a fluorescent light that won't support his weight – was done with Jack Lemmon in the Billy Wilder movie Buddy Buddy (it was a shower head, but same concept).
The dancing scene on Soul Train, looked like a scene taken from Boogie Nights. They also used some very Boogie Nights related tunes, including Hot Chocolate and Sniff 'n the Tears (Driver's Seat).
There's an ice skating scene that's Blades of Glory. Oh, and when we meet Kristen Wiigs dopey character that stares at the phone without answering it – I thought of a skit from The Kids in the Hall where a guy doesn't answer his phone.
This is nothing new for Will Ferrell and Adam McKee. I remember in the first Anchorman, they took a few jokes from other films. In this, they also recycled many of the jokes from the first Anchorman. Ferrell co-wrote the script, so he can shoulder most of the blame. He's content with resting on his laurels and cashing a fat paycheck.
The movie opens with Ron Burgundy and his wife Veronica (Christina Applegate) co-anchoring the weekend news in New York. They think their boss (Harrison Ford) is going to promote them to the nightly news, but Burgundy gets canned, while his wife gets the job. This leads to them separating, and Burgundy getting a job hosting a dolphin show at Sea World (remember that one scene that was being filmed in San Diego?). Life soon changes for Burgundy, as he's offered a job at GNN, for a new 24-hour news channel that's starting up. Since he's back in New York, he tries to rekindle things with his wife – who has hooked up with Greg Kinnear. As Ferrell angrily talks about shooting a flare gun at his penis, Kinnear stays the calm and collected one, who we find out is a psychologist. The angry ex-boyfriend and the intelligent, calm, perfect new boyfriend. That's something we've seen many times (Tim Robbins playing the character in High Fidelity comes to mind).
Burgundy brings his old crew with him (Paul Rudd, Steve Carrell, and David Koechner), where they quickly clash with James Marsden and his news goons. Problems arise when their new boss doesn't like the stories they cover as news.  That includes high speed car chases and smoking crack on the air.
It seems this movie missed on great opportunities at truly being funny. It could've been a biting satire, or just been a crazy comedy with lots of jokes. It was neither.
It's sad that I can count the funny moments on one hand: John C. Reilly playing the ghost of Stonewall Jackson; the love scene with Farrell and Good, which was edited very humorously. There was an O.J. Simpson joke that worked (I never get tired of those).
The two critics sitting behind me kept saying during the movie "This sucks" and "Isn't it over yet?"
The critic to my left hated it. The friend I brought with me (who loved the first movie and won a Ron Burgundy look-alike contest), was disappointed. It was an utter failure on so many levels. I'm going to give it a star for a fun soundtrack that had Boz Scaggs "Lowdown," Simon & Garfunkel's "Old Friends," Grandmaster Flash's "White Lines,"  Jay Ferguson's "Thunder Island," Kenny Rogers "Lady," Neil Diamond's "Silo," Steve Miller's "Jet Airliner," as well as Styx, Olivia Newton-John, Christopher Cross, and San Diegan Stephen Bishop.
1 Star out of 5.