This is an archived article and the information in the article may be outdated. Please look at the time stamp on the story to see when it was last updated.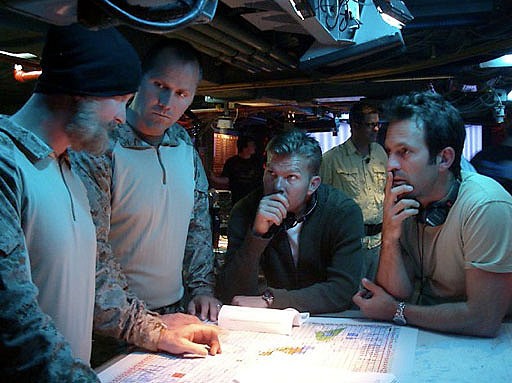 I remember being in high school and playing basketball with some pilots at Miramar who were talking about the filming of Top Gun on the base. One told me Tom Cruise asked if he could go up in the F-14 and he ended up puking (but insisted on cleaning it up himself).
Obviously, the Navy didn't mind how that movie turned out. Their recruitment skyrocketed.
Years later when I was working in radio, I interviewed some cast members from A Few Good Men (another Tom Cruise military film). They told me that filming was supposed to all be done on CampPendleton. After the first day, the brass read the script and felt the Marines weren't shown in a good light.
So when we hear that Act of Valor cast real Navy SEALs and that they are looking at this as a movie to help with recruitment – many thoughts pop into my head; one being that we already pay taxes for the SEALs, why are we now asked to pay another $12 to see them try to recruit people?
And when I first heard the voice over of a SEAL, writing a letter to a dead team members son, it sounded like a Billy Bob Thornton/Peyton Manning drawl. When that same actor is on the beach talking to his buddy – we realize just how much we miss real actors.
The two stuntment (Mike McCoy and Scott Waugh) who co-directed, and do an opening where they explain why they cast real SEALs. That helps give the film a bit of leeway, although they really should've refrained from having the words "based on real acts of valor" in the beginning.
We're all familiar with the SEAL team taking out bin Laden, and rescuing the ship captain from Somalia pirates. We're all in agreement – these guys kick some serious ass!
Certainly there's more hype around this movie in San Diego, since portions were filmed at Coronado Naval Amphibious Base and at the Imperial Beach pier. The shipboard scenes were filmed on the San Diego-based warship Bonhomme Richard.
Now, just because real bullets and SEALS are used in this, we're supposed to like it more than another action picture that would've starred Nicolas Cage and been directed by John Woo? Well, yes and no.
The movie is a bit disjointed, and the narrative could've been tweaked a bit better. The story involves a jihadist with a crew of suicide bombers, and drug smuggler. There's also a female CIA agent that's been captured and is being tortured. She needs rescuing.
As a movie that aims to recruit – the thought of being away from a cute blonde wife and possibly losing an eye (or your life) in the line of duty – wouldn't make me rush into the recruiter's office. If I did, I'd be sure to ask  "How do they decide which person will smother the grenade with his body?"
Since I was never bored watching the movie and liked the fact that they didn't go over the top with the action scenes, I have to give this 2 out of 5 stars.