This is an archived article and the information in the article may be outdated. Please look at the time stamp on the story to see when it was last updated.
I always glance at the calendar of shows at the Belly Up Tavern because they get so many great artists. The last time I looked at it, I was surprised to see two actors bringing bands to town. I really shouldn't be. I remember it was 1990 when I first saw an actor on stage with a band live. It was Dennis Quaid and the Sharks. It made me realize how an opportunity was missed when the Jerry Lee Lewis wouldn't let him perform the songs himself in the biopic Great Balls of Fire. The dude had the goods.
Speaking of The Dude, I've seen Jeff Bridges play at the Belly Up. He was with his daughter Jessie who sounded great doing southern style tunes. We knew Jeff could sing, because he did his own singing in Crazy Heart (and got an Oscar nomination). It was funny that his daughter's stuff sounded like The Eagles, a band Lebowski made fun of in the movie.
In one of the nicest things ever, my friend who has terminal cancer had bought good seats to see Bridges. During chemo treatments, she forgot all about the show. I informed Meryl Klemow at the Belly Up. She hooked her up with tickets for another big name artist a few weeks later. It was such a nice gesture, especially when concert venues are so strict about no refund policies.
My friend saw Keanu Reeves playing bass with his band Dogstar. She said the group was great, but he didn't impress her as a bassist.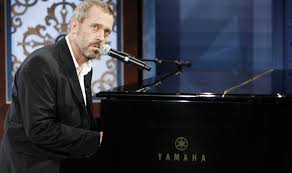 I saw Hugh Laurie (House) do a lot of jazz songs and standards. It was an amazing show that I almost missed. I didn't know he was a pianist. My friend had tickets and when her buddy couldn't make it, I decided to go. He sounded amazing, and it was nice chatting with him while I was puffing a cigar and he was smoking cigarettes out back.
I was impressed with the show actress Juliette Lewis (Natural Born Killers, Cape Fear) did with her band "The Licks." She had the drummer from Hole, and they were playing some killer punk tunes. She dove off the stage once. It was like watching a female Iggy Pop.
After the show I told her I was so old, I was a fan of her dad (Geoffrey Lewis), from all his movies with Clint Eastwood in the '70s. We had a great conversation about him that I thought about recently, when Geoffrey passed away.
I asked Meryl to tell me some of the actors she's seen grace the stage of the B.U.T.
MERYL KLEMOW: I have seen a lot. I forget them all, but the ones that stand out are the Bacon Brothers, Hugh Laurie, Jeff Bridges, Adrian Grenier (Entourage), Jenny Lewis, Donald Glover, John C. Reilly, Gary Sinise, and Jason Schwartzman's band Phantom Planet.
JOSH BOARD: Ah, yes. I forgot. I've seen the Bacon Brothers there twice. They have some decent songs. Kevin's wife Kyra Sedgwick was dancing in front of me the entire time.
Are you surprised when these people can actually play and sing?
MERYL: Not at all, actually. I usually think of celebrities and movie stars as multi-talented. To me, most people that can do one thing really well can do a lot of things at least mildly well.
JOSH: A lot of these actors are performing with their kids. I think that's the situation with Jeff Daniels. Tell me about how the kids interact with their parents.
MERYL: We have had a lot of the second generation come to hang out with and perform with their parents. Jessie Bridges was an example of someone who obviously has inherited the talent gene. She was beautiful, charming, and a great musician just like her dad.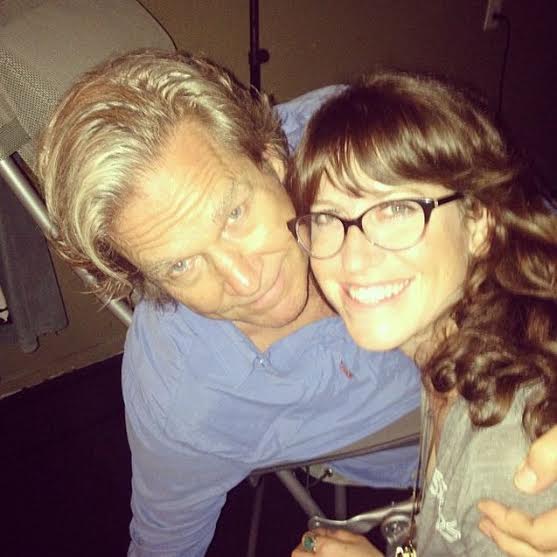 JOSH: When I saw the Bacon Brothers once, I was smoking a cigar in back and got to meet them. Michael was tuning a guitar or something, and Kevin came outside to make a phone call. What can you tell me about them?
MERYL KEMLOW: They are very funny, they smell nice, and the ladies love them!
JOSH BOARD: Speaking of ladies loving people…I saw Kenny Loggins at the Belly Up last year. He's not an actor, but has done songs on soundtracks like Kevin Bacon's Footloose, as well as Caddyshack, Top Gun, and about 10 other big films. The women went nuts over him. It was like the clips you see of teenage girls going crazy over the Beatles, but this was 50-year-olds.
Has there ever been an actor that performed at the Belly Up that you were nervous to meet, or that you really looked forward to meeting?
MERYL: I think Jenny Lewis is a really cool woman and I grew up watching Troop Beverly Hills weekly as a child. It was surreal to see her all grown up and rocking out on our stage.
JOSH: Is it safe to say that if any big name actor performs there, the show will sell out? They'd obviously have enough fans from TV or the movies, I'm just not sure if they'd go out for the music they're not familiar with.
MERYL: We would at least get pretty darn close to a sell-out. Even if some actors that don't have bands want to just come and stand on stage, I'd personally buy a ticket. Colin Farrell, or the entire male cast of Magic Mike…I'm talking to you!
JOSH: Well, one filmmaker goes on stage and just stands there and talks – John Waters (Hairspray, Pink Flamingos, Cry-Baby). I always see he's there around Christmas for his holiday show.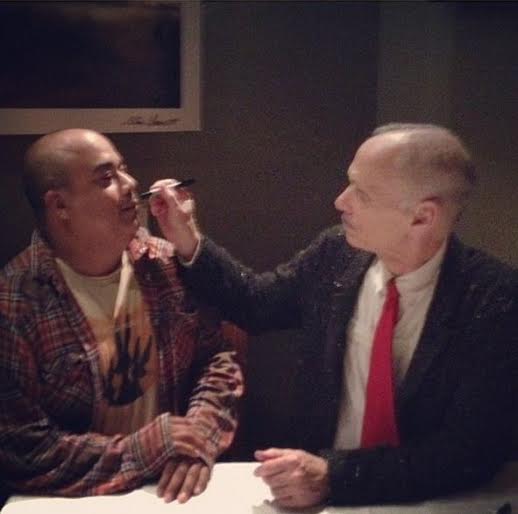 On the subject of Christmas shows, John C. Reilly did a holiday show there soon after he played the fictional '60s singer Dewey Cox. A few of my friends went and said it was good, but they were more impressed with local legend Gregory Page.
I'm guessing older actors don't get wild and crazy backstage the way young up-and-coming bands do, but figured I asked. I wanted Meryl to spill the beans on the wildest backstage story she had involving actors.
MERYL: Nothing all that crazy, but here's a fun little story. There was a puppy backstage and I went down to pet it, and I noticed another hand on the dog. It was Hugh Laurie petting it. He was wearing a hat and looked even more handsome than on TV!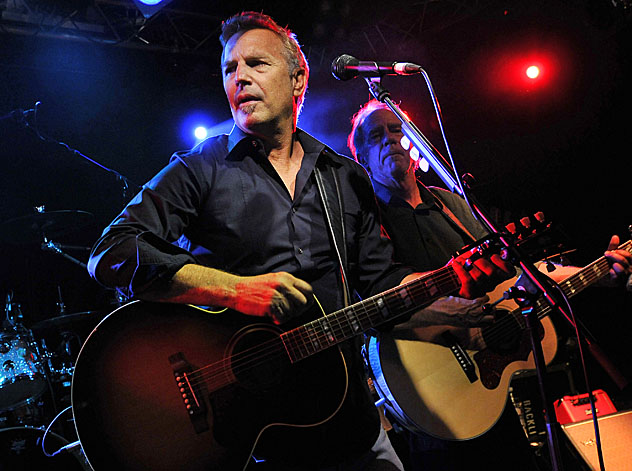 Fans of baseball movies, or just A-list actors in general, will want to get to the Belly Up Tavern on August 11th. Kevin Costner and Modern West.
Jeff Daniels and his kid will be coming up in the near future. Let's just hope the crowd isn't yelling out "dumb and dumber" stuff as he's trying to perform. It will be more annoying than bands hearing "More cowbell!!"