This is an archived article and the information in the article may be outdated. Please look at the time stamp on the story to see when it was last updated.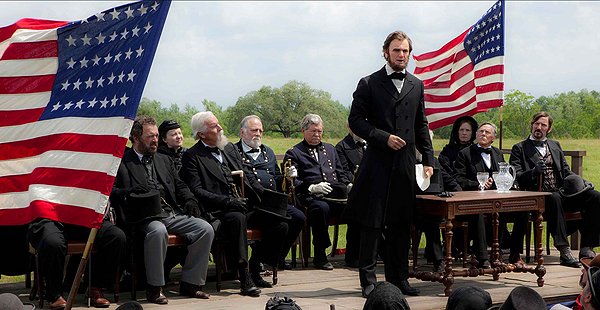 Let's first address the elephant in the room – the goofy title. Well, in the mid-60s there was a movie called Billy the Kid vs. Dracula. And last year we had the surprisingly entertaining Cowboys & Aliens.
I'm not familiar with the book this is based on, but the premise is that the 16th President saw a vampire kill his mother. While contemplating revenge in a bar (where all our best ideas originate), he meets a guy (Dominic Cooper from Captain America) who teaches him the proper way to seek revenge. This later leads to him training with a silver tipped axe in which to take out the blood suckers. I was waiting for Honest Abe to line that top hat with some silver and go all Odd Job on the vampires. Yet he only tosses his hat at a vampire once (when it became invisible).
I'm not a big fan of Tim Burton films, so I was glad to see he was only the producer. He would've totally messed up the casting, having Johnny Depp play Lincoln with some weird voice. Instead we have Benjamin Walker, the son-in-law of Meryl Streep. He looks like a mix of Liam Neeson and Christopher Reeve. Even when he ages during the White House years, he looks great in the role. Credit goes to Greg Cannom, who won an Oscar for the makeup we saw on Brad Pitt in Benjamin Button. He's had a bit of experience as Lincoln. He played him on Broadway in the play Bloody Bloody Andrew Jackson. Geez, all these weird titles. It's only a matter of time before we see The Harry Trumanator. It will be the perfect role for former governor Arnold Schwarzenegger, who wants to return to "acting."
Mary Elizabeth Winstead (Scott Pilgrim) plays Mary Todd Lincoln. Anthony Mackie (Hurt Locker) plays Abe's best friend Will. The one who steals the show though, is Rufus Sewell as the evil plantation owning vampire.
You'll obviously have to ignore many plot holes and flaws in the historical logic of the plantation owners, underground railroad, Civil War, and a few other things. We gave Tarantino a pass with Inglourious Basterds. If he can create a character called Bear Jew that bashes Nazis with a baseball bat, let Abe have some fun swinging his axe around. And remember…you're seeing a fun summer action flick. You want to step out of the sun and into an air-conditioned theatre. You hope you're not bored, and you certainly won't be with this production.
The CGI effects are spectacular, as are the stylish fight sequences (which I usually hate).
Perhaps I liked this movie a bit more because my expectations were so low. It doesn't all work, but enough of it does to warrant me giving it 3 stars out of 5.