GlobeNewswire
Manar Abu Dhabi Transforms Abu Dhabi's Natural Vistas into an Experiential Citywide Light Art Exhibition
News provided by
Public Art Abu Dhabi
Nov 20, 2023, 6:26 AM ET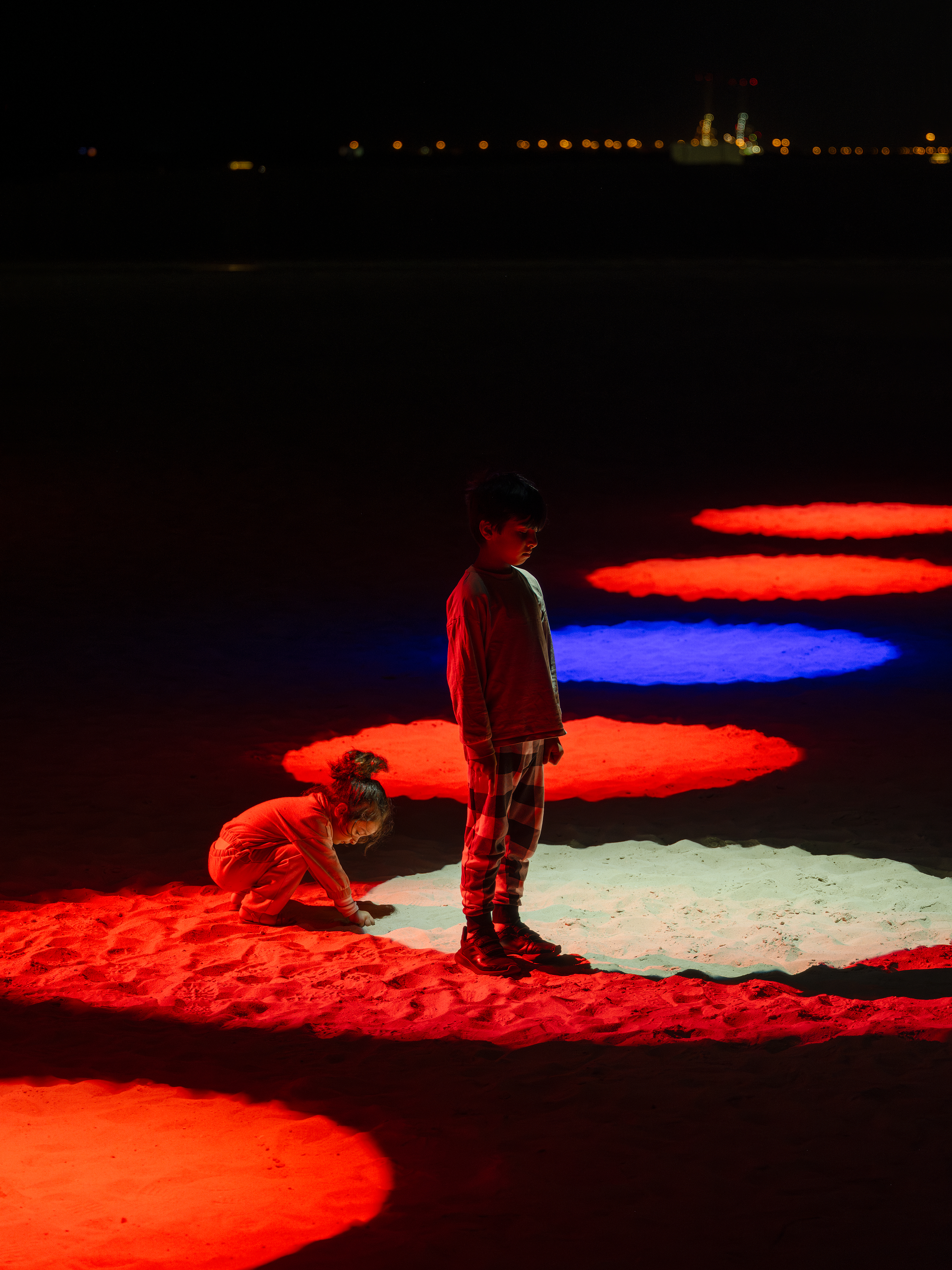 Carsten Höller, Abu Dhabi Dots (2023). Manar Abu Dhabi 2023. Courtesy the artist and DCT Abu Dhabi. Photo by Lance Gerber.
Public light art exhibition Manar Abu Dhabi runs until 30 January 2024 with new site-specific commissions, light sculptures, projections, and immersive artworks installed across key locations in the city including Corniche Road and Beach, the Eastern Mangroves, Fahid Island, Jubail Mangrove Park, Lulu Island, Saadiyat Island and Al Samaliyah Island.
The group exhibition features over 20 local, regional and international artists including Ayman Zedani, Carsten Höller, Jim Denevan, Latifa Saeed, Luciana Abait, Mohammed Kazem, Nadia Kaabi-Linke, Nujoom Al Ghanem, Rain Wu, Rafael Lozano-Hemmer, Samia Halaby, Shezad Dawood, teamLab and more.
Curated by Reem Fadda and Alia Zaal Lootah, the exhibition is a key pillar of the Department of Culture and Tourism – Abu Dhabi's Public Art Abu Dhabi initiative, which is committed to enhancing the city's urban fabric through public art.
ABU DHABI, United Arab Emirates, Nov. 20, 2023 (GLOBE NEWSWIRE) -- Light art exhibition Manar Abu Dhabi is now open to the public, showcasing compelling light artworks installed across various islands, mangroves, and natural vistas in the capital.
A key pillar of the Department of Culture and Tourism – Abu Dhabi's (DCT Abu Dhabi) Public Art Abu Dhabi initiative, Manar's inaugural edition is held under the theme Grounding Light, rooted in the concept of grounding and self-enlightenment and the belief that light is a reflection of our inner selves, body, mind, nature and spirit. Curated by Reem Fadda and Alia Zaal Lootah, the citywide exhibition features an array of artworks by over 20 local, regional and international artists from Argentina, China (Taiwan), Germany, France, India, Japan, Mexico, Palestine, Saudi Arabia, Tunisia, the United Arab Emirates, United Kingdom and the United States.
On Fahid Island, Jim Denevan has created Self Similar, a monumental land art installation illuminated by 448 solar lanterns, where towering clouds and tiny grains of sand coalesce into a symphony of interconnectedness. Meanwhile, Rafael Lozano-Hemmer takes over Lulu Island with Translation Island, an interactive journey through 10 large-scale audiovisual multimedia artworks. An ambitious technological tour de force, the works employ ultrasonic atomizers, Geiger counters and thermal cameras, among other equipment.
Some of the installations use light to represent or interact with natural and cosmic phenomena, while others reflect on the transient nature of existence, human understanding and misunderstanding. Ultimately, the exhibition is a platform for self-representation and participation by the visitors. Developing the participatory element further, on Corniche Beach Carsten Höller creates with Abu Dhabi Dots a game that invites visitors to interact with light and change its properties, while Shilpa Gupta reflects on humans' ability for change in an artwork presented in Arabic, English, and Urdu.
Merging sound, digital technologies, light, and water, Jumairy celebrates the ethereal beauty of bioluminescent Abu Dhabi beaches, provoking reflection on the interconnectedness of all living beings. Luciana Abait compiled her extensive collection of visual and audio recordings from around the world in Agua, an interactive experience where viewers are invited to immerse themselves in a large-scale waterfall projection, symbolizing a spiritual cleansing process. Shezad Dawood's four-meter-high iridescent Coral Alchemy (Acropora Grove) sculpture on Corniche Beach promotes environmental awareness, highlighting the endangered acropora coral species.
Other artworks reflect on Abu Dhabi's history and modernity. On Lulu Island, Nujoom Al Ghanem celebrates Abu Dhabi seafaring heritage with a large-scale installation of dhow boats. Exploring Abu Dhabi's traditions and cultural practices in a series of artworks, Ayesha Hadhir, Rawdha Al Ketbi and Shaikha Al Ketbi create a playful journey through the Eastern Mangroves. Abu Dhabi's ever-evolving landscape is captured by Ahmed Al Areef in his video projection on the Abu Dhabi Chamber Building, featuring archival photos of the city's old and contemporary skylines.
Exploring the interaction of time and spatial perception with her sculptural piece, Asma Belhamar reflects on how those who grow up in the UAE experience the changes in architecture and landscape through transient moments. Groupe F's drone and light painting shows transform the night sky, previewing Saadiyat Island's landmark architectural future. Drawn by the medium of light itself, Latifa Saeed and Nadia Kaabi-Linke envisage their architecture-focused artworks as vehicles or lenses for the immaterial medium – light – that makes the world visible without being seen.
Transforming Corniche Beach into her canvas with the aid of two LED screens, the iconic artist Samia Halaby merges painting with kinetic technology, giving typically visual ideas a concrete body, reflecting growth and development.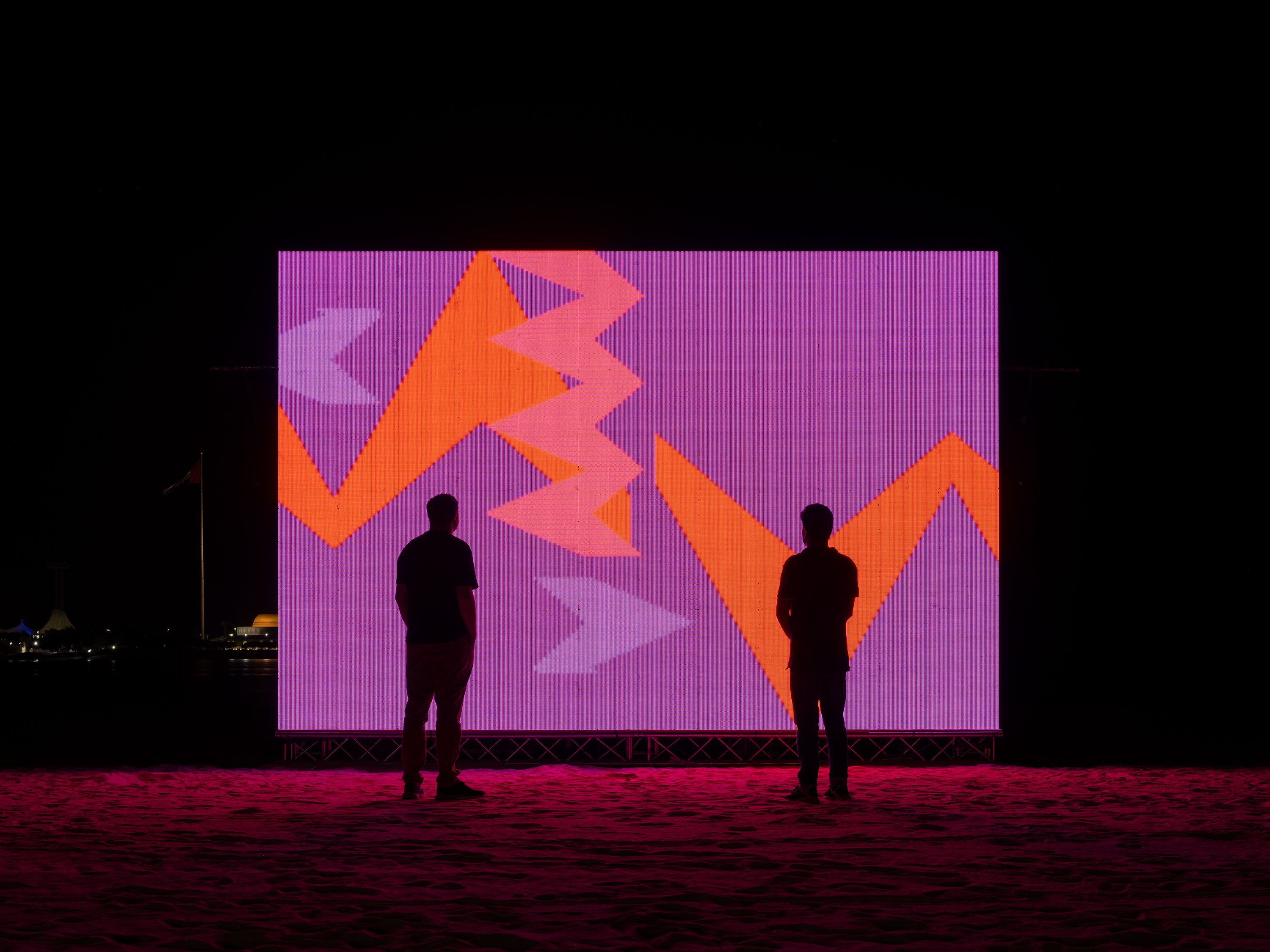 Samia Halaby, Yafa (1992 – 2019). Manar Abu Dhabi 2023. Courtesy the artist and DCT Abu Dhabi. Photo by Lance Gerber.
A second series of artworks will be unveiled in Al Samaliyah Island artworks on 20 December and remain on view until 30 January 2024. Among the artists whose projects will open in the second half of December, teamLab use digital technologies to create startling immersive artworks that transport viewers into a world where nature and technology converge in harmony. Similarly, Ayman Zedani studies the interplay between humans and the natural world in his work Terrapolis, blurring the lines between life forms and prompting reflection on our connection to the Earth and other species in the modern Gulf environment. Representing collaboration across various realms and the nation's developmental journey as a work of art, Mohammed Kazem manifests the unity and boundless opportunities that the Emirates offer through a circular arrangement of numerical coordinates in his Directions, UAE artwork. In Jubail Mangrove Park, Rain Wu's immersive installation One with the Soil, One with the Cloud will illuminate the life cycle of mangrove trees through a floating swarm of lights, celebrating the beauty and ephemerality of existence while offering a unique view on the living world from above. Finally, in celebration of the rising cultural district in the making, Alaa Edris will offer a new perspective on Saadiyat Island with the new Guggenheim Abu Dhabi Museum as a backdrop.
In conjunction with the art installations, a schedule of public talks, workshops and performances is offered to visitors over the course of the exhibition. These endeavors highlight Public Art Abu Dhabi's ongoing commitment to enhancing the emirate's public spaces through art, building upon a vibrant cultural legacy while looking forward to a future rich with creative potential.
Manar Abu Dhabi Press Kit, including imagery, is available here: https://rb.gy/mn70q
Manar Abu Dhabi website is here: http://paad.ae
PRESS ENQUIRIES:
Anastasia Lander, Pelham Communications
anastasia@pelhamcommunications.com
NOTES TO EDITORS
PARTICIPATING ARTISTS
NAME
COUNTRY
ARTWORK
LOCATION
Ahmad Al Areef (b. 1988)
UAE
Memories of a Harbor (2023)
Corniche, Abu Dhabi Chamber Building
Ayesha Hadhir (b. 1994), Rawdha Al Ketbi (b. 1997), Shaikha Alketbi (b. 1995)
UAE
Dawaran (2023)
Eastern Mangroves
Alaa Edris (b. 1986)
UAE
Rise (2023)
Saadiyat Island
Asma Belhamar (b. 1988)
UAE
Chasing the dance of Alfay (2023)
Corniche, Abu Dhabi Viewpoint, Al Kasir
Ayman Zedani (b. 1984)
Saudi Arabia
Terrapolis (2020)
Al Samaliyah Island
Carsten Höller (b. 1961)
Germany
Abu Dhabi Dots (2023)
Corniche Beach
Groupe F (est. 1990)
France
Persistence of Form (2023)
Saadiyat Island
Jim Denevan (b. 1961)
USA
Self Similar (2023)
Fahid Island
Jumairy (b. 1992)
UAE
Luciferin Shores (2023)
Lulu Island
Latifa Saeed (b. 1985)
UAE
Al Duroob (2023)
Corniche Road
Luciana Abait (b. 1971)
Argentina
Agua (2021)
Corniche Road
Mohammed Kazem (b. 1969)
UAE
Directions, UAE (2023)
Al Samaliyah Island
Nadia Kaabi-Linke (b. 1978)
Tunisia
Bait Al Nur (2023)
Corniche Road
Nujoom Alghanem (b. 1962)
UAE
Flying Ships (2023)
Lulu Island
Rafael Lozano-Hemmer (b. 1967)
Mexico
Translation Island (2023):
Collider, Dune Ringers, Polyethylene Basin, Pulse Island, Recorded Assembly, Sandbox, Shadow Tuner, Thermal Drift, Translation Lake, Translation Stream
Lulu Island
Rain Wu (b. 1987)
China (Taiwan)
One with the Soil, One with the Cloud (2023)
Jubail Mangroves Park
Samia Halaby (b. 1936)
Palestine
City (1992-2019)
Yafa (1992-2019)
Corniche Road
Shezad Dawood (b. 1974)
UK
Coral Alchemy (Acropora Grove) (2023)
Corniche, Al Kasir Beach
Shilpa Gupta (b. 1976)
India
This Horizon Inside of Us (2023)
Corniche Road
teamLab (est. 2001)
Japan
Autonomous Resonating Life and Resonating Trees (2023); Forest of Autonomous Resonating Life (2023);
Giant Solidified Spark (2023);
Life is Continuous Light - Mangrove Forest (2023); Resonating Microcosms - Solidified Light Color (2023); Pillars that Dance with the Wind (2023); Universe of Fire Particles on the Island (2023)
Al Samaliyah Island

About the Department of Culture and Tourism – Abu Dhabi: 
The Department of Culture and Tourism – Abu Dhabi (DCT Abu Dhabi) drives the sustainable growth of Abu Dhabi's culture and tourism sectors, fuels economic progress and helps achieve Abu Dhabi's wider global ambitions. By working in partnership with the organisations that define the emirate's position as a leading international destination, DCT Abu Dhabi strives to unite the ecosystem around a shared vision of the emirate's potential, coordinate effort and investment, deliver innovative solutions, and use the best tools, policies, and systems to support the culture and tourism industries.
DCT Abu Dhabi's vision is defined by the emirate's people, heritage, and landscape. We work to enhance Abu Dhabi's status as a place of authenticity, innovation, and unparalleled experiences, represented by its living traditions of hospitality, pioneering initiatives and creative thought.
For more information about DCT Abu Dhabi and the destination, please visit tcaabudhabi.ae and visitabudhabi.ae 
For Abu Dhabi Calendar, please visit inabudhabi.ae 
About Public Art Abu Dhabi
Public Art Abu Dhabi is the Department of Culture and Tourism – Abu Dhabi (DCT Abu Dhabi)'s new initiative under its ongoing commitment to commissioning public art for the emirate. Integral to this initiative is its community engagement efforts. The initiative advances the creative legacy, cultural infrastructure, liveability, and wellbeing of the UAE capital's residents through placemaking and collective memory. An investment of over 35 million US dollars is dedicated to the initiative annually, to support the emirate's wider creative industries through public art.
For more information about Public Art Abu Dhabi, please visit http://paad.ae.
Photos accompanying this announcement are available at
https://www.globenewswire.com/NewsRoom/AttachmentNg/196443f5-011e-4665-a82a-deed59cddee5
https://www.globenewswire.com/NewsRoom/AttachmentNg/04627575-b6d5-4fe9-8fd7-5f30160e13aa

NOTE: This content is not written by or endorsed by "KSWB", its advertisers, or Nexstar Media Inc.
For inquiries or corrections to Press Releases, please reach out to GlobeNewswire.