GlobeNewswire
Lightspeed launches gamechanging new features for sophisticated omnichannel retailers navigating today's sink-or-swim economy
The rollout of new Lightspeed Retail features such as B2B Catalog and the Scanner App helps established businesses maximize margins and serve customers faster, amidst growing inflation and staffing shortages

News provided by
Lightspeed Commerce Inc.
May 26, 2023, 9:03 AM ET
MONTREAL, May 26, 2023 (GLOBE NEWSWIRE) -- Lightspeed Commerce Inc. (NYSE | TSX: LSPD) launches a series of new omnichannel features in its flagship Lightspeed Retail platform to help high GTV merchants weather the turbulent economy. Powering the world's best businesses, Lightspeed is the unified POS and payments platform for ambitious entrepreneurs to accelerate growth, provide the best customer experiences and become a go-to destination in their space.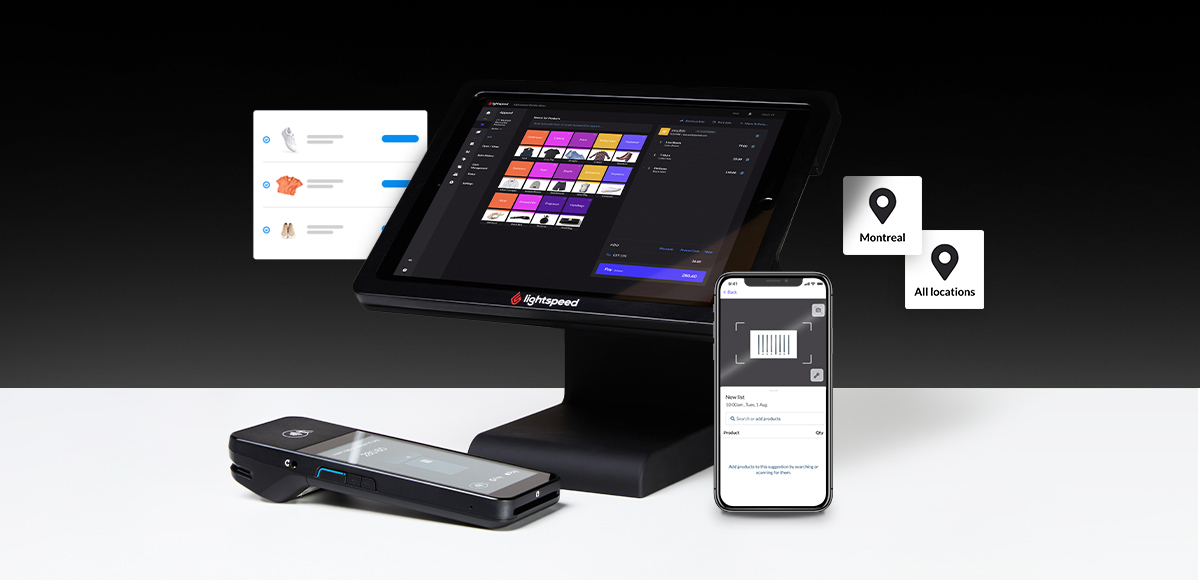 New best-in-class Lightspeed Retail features for sophisticated omnichannel businesses:
B2B Catalog: A transformative integration unique to Lightspeed that gives bike retailers access to supplier inventory data to help streamline product management, with plans to expand to other verticals.
Scanner App: Turns iOS and Android devices into a powerfully simple inventory management tool, enabling easy stock look-up, counting and order fulfillment.
Price Changes: Maximizes margins and helps retailers stay agile with easy pricing updates across outlets.
Advanced Marketing: Merchants now have access to a full omnichannel marketing suite integrated with their POS and ecommerce solution to ensure their marketing efforts are driving sales.
Enhanced eCom: New features include improved data visibility and funnel management to help merchants increase ROI, expanded internationalization capabilities to unlock markets across borders and omnichannel payments.
User Permissions: Advanced security and viewing options give owners flexibility and peace of mind while empowering their teams with the right level of visibility.
Unified Payments: Seamless POS and Payments integration captures valuable data, helps reduce fraud and errors through supporting hardware and boosts efficiency by simplifying bookkeeping and onboarding.

"Lightspeed is the solution for today's ambitious retail business owner—and the pain points they're facing," says Ana Wight, GM of Lightspeed Retail. "Our advanced omnichannel tools streamline processes across channels and locations, allowing sophisticated merchants to focus their time and energy on what they do best. And with Lightspeed's move to one flagship retail platform, our best-in-class development team is now even better positioned to continually innovate and evolve our product."
Innovative Inventory Management
Lightspeed Retail's advanced inventory management features help omnichannel and multilocation retailers with complex inventory gain visibility and efficiency across their in-store and online operations. Lightspeed's transformative B2B Catalog gives retailers direct access to brand product details, drastically reducing time spent on inventory. The integration is currently available to bike retailers, and will expand to additional verticals in future. In-store tools such as the Lightspeed Scanner App make it easier across the board when receiving and fulfilling orders. "The stocktake process for us used to involve a lot of spreadsheets," explains Paul Stephens, Head of Data & Technology at Neal's Yard Remedies. "Now with Lightspeed, people can use devices to scan easily and update the stock record."
One-Click Uploads: Empower staff with easy access to omnichannel supplier catalogs to unlock key flows.
Business Bird's-Eye-View: Access extensive product information needed by both staff and management from leading suppliers.
Stock Lookup: Allows business owners to scan products and see stock inventory across outlets for insight into restock or transfers.
Fulfilling Orders: Scan items in as they are picked for online orders that are fulfilled by in-store stock.
Receiving Stock: Save time on inventory with B2B Catalog. Scan in and receive products using a quick-add model, easily importing product details (including images and descriptions) from supplier catalogs to get the products on the shop floor and never miss a sale.
Stocktake: Gain efficiency with multiple team members using the barcode scanner to count stock and leave notes for managers receiving and updating inventory levels.
Lists: Create product lists by simply scanning products and sending as a PO or export to CSV.

Advanced Omnichannel Marketing Tools
The new Advanced Marketing module for Lightspeed Retail connects sales data with unique customer profiles, unlocking powerful insights so merchants can optimize their marketing and boost sales, both online and in-store.
Advanced Customer Segmentation: Merchants can better understand who their customers are, what they want, and how they shop.
Seamlessly Connected In-store and Online Marketing: Retailers can now sync sales data from their POS and ecommerce tools, and link them to unique customer profiles.
Detailed ROI and Campaign Reporting: Merchants can now leverage their data to sell smarter with personalized, AI-assisted campaigns.

Expanded Ecommerce Features
New Lightspeed eCom features enable merchants to unlock new revenue streams, increase the ROI of online marketing and advertising efforts, expand to new international markets and easily manage their ecommerce store through their mobile device.
Internationalization Tools: New eCom features enable retailers to expand across borders, from a fully translatable storefront and custom checkout fields to multilingual SEO fields to help boost site rankings in new markets.
Data Visibility and Funnel Improvements: It's now easier and faster for merchants to connect customer data with Google, helping to offset the cost of customer acquisition, while UTM parameter history helps focus advertising efforts to maximize ROI.
Pre-Order Improvements: Lightspeed has streamlined their pre-order functionality enabling retailers to quickly and easily add a new revenue stream and manage and sort pre-orders.
Enhanced iOS and Android App Features: Lightspeed eCom users can now manage orders on-the-go with greater ease, setting order reminders by phone and accessing instant delivery details in one place.
Price Management
Lightspeed Retail now gives customers the power to easily update pricing across multiple outlets, staying agile in response to inflation and rapidly evolving supplier pricing. Retailers with the ability to change pricing are able to better respond to industry and economic trends to maximize their margins—a particularly valuable feature for high-end and multilocation retailers, where small tweaks can make a big difference.
New Security and Permissions Capabilities
Lightspeed's security capabilities mean retail owners and operators with expanding teams can ensure everyone has access to what they need, while keeping confidential information and system of record data safe and secure. New features give retailers:
Ease of information and flexibility in share controls allowing retailers to adjust permissions for different staff roles.
Access on the go to all operational workflows for teams and locations.
Flexible user permissions to empower staff from sales to operations.
Adaptable limits to customers' personal profiles.
Report access from any location at any time to optimize visibility.

Unified Payments & POS
Lightspeed's unified platform reduces complexity for retailers by streamlining support, simplifying bookkeeping and providing deeper insights through reporting. Focusing on a single, best-in-class omnichannel payments solution allows Lightspeed to innovate and bring new value to customers faster.
Daily visibility of cash flow reconciliation within your POS.
Supporting hardware helps to reduce fraud and errors.
In-app uploads for AML documents to boost efficiency and speed up onboarding.

"Lightspeed having unified payments makes stuff a lot easier on my end," says Atticus Conway, Manager at Electric Movement, a Chicago-based e-bike retailer and service shop. "With us only having to run one batch at the end of the day, it gives me more face-to-face interaction with our customers. We're looking for high efficiency," continues Conway, "and efficiency equals dollars."
Lightspeed is for ambitious retailers seeking intuitive technology to help them scale and future-proof their businesses. Lightspeed's new features put power in their hands with everything embedded in Lightspeed's POS. From speeding up replenishment workflows and ordering directly from suppliers (no more double entry!) to discovering a customer's new go-to product—Lightspeed's retail tools serve up capabilities that solve for the needs of sophisticated and growing business owners.
Lightspeed powers the world's best retailers, including: Playbill, Arctic Spas, Ildico, Elite Supps, Leica Camera, Imagine Exhibitions, Dr. Barbara Sturm, Filson Canada, Melissa Joy Manning, Neal's Yard Remedies and W Cosmetics.
Dive into the transformative features of Lightspeed Retail on our website, or to witness its powerful capabilities, see https://www.lightspeedhq.com/pos/retail/.
About Lightspeed
Powering the businesses that are the backbone of the global economy, Lightspeed's one-stop commerce platform helps merchants innovate to simplify, scale and provide exceptional customer experiences. Our cloud commerce solution transforms and unifies online and physical operations, multichannel sales, expansion to new locations, global payments, financial solutions and connection to supplier networks.
Founded in Montréal, Canada in 2005, Lightspeed is dual-listed on the New York Stock Exchange (NYSE: LSPD) and Toronto Stock Exchange (TSX: LSPD). With teams across North America, Europe and Asia Pacific, the company serves retail, hospitality and golf businesses in over 100 countries.
For more information, see www.lightspeedhq.com.
Follow us on social media: LinkedIn, Facebook, Instagram, YouTube, and Twitter.
Forward-Looking Statements
This news release may include forward-looking information and forward-looking statements within the meaning of applicable securities laws ("forward-looking statements"), including information regarding Lightspeed's product offerings and planned product roadmap. Forward-looking statements are statements that are predictive in nature, depend upon or refer to future events or conditions and are identified by words such as "will", "expects", "anticipates", "intends", "plans", "believes", "estimates" or similar expressions concerning matters that are not historical facts. Such statements are based on current expectations of Lightspeed's management and inherently involve numerous risks and uncertainties, known and unknown, including economic factors. A number of risks, uncertainties and other factors may cause actual results to differ materially from the forward-looking statements contained in this news release, including, among other factors, those risk factors identified in our most recent Management's Discussion and Analysis of Financial Condition and Results of Operations, under "Risk Factors" in our most recent Annual Information Form, and in our other filings with the Canadian securities regulatory authorities and the U.S. Securities and Exchange Commission, all of which are available under our profiles on SEDAR at www.sedar.com and on EDGAR at www.sec.gov. Readers are cautioned to consider these and other factors carefully when making decisions with respect to Lightspeed's subordinate voting shares and not to place undue reliance on forward-looking statements. Forward-looking statements contained in this news release are not guarantees of future performance and, while forward-looking statements are based on certain assumptions that Lightspeed considers reasonable, actual events and results could differ materially from those expressed or implied by forward-looking statements made by Lightspeed. Except as may be expressly required by applicable law, Lightspeed does not undertake any obligation to update publicly or revise any such forward-looking statements, whether as a result of new information, future events or otherwise.
For further information:
Media Contacts: Canada: Victoria Baker, NKPR - victoriab@nkpr.net; USA: Jennifer Fugel, Newsmaker Group- jfugel@newsmakergroup.com; Lightspeed Media Relations - media@lightspeedhq.com; Investor Relations: Gus Papageorgiou, Lightspeed Investor Relations - investorrelations@lightspeedhq.com
A photo accompanying this announcement is available at https://www.globenewswire.com/NewsRoom/AttachmentNg/b0099e4f-5b82-4d7e-b35e-54adad79ef55


NOTE: This content is not written by or endorsed by "KSWB", its advertisers, or Nexstar Media Inc.
For inquiries or corrections to Press Releases, please reach out to GlobeNewswire.